Zack Snyder denies one - and only one - of the most persistent rumors about his Superman movie. Television's most famous president is Spidey's new uncle. Get inside The Event. Plus Pride and Prejudice and Zombies and Fringe casting.

Superman Reboot:
Zack Snyder offered a single, categorical denial of all those General Zod rumors. He says those rumors are "completely wrong", which seems to be about as definite as it gets. As for other rumors about an older Superman or Clark Kent traveling the world as a reporter, he said he can't comment on that yet. He also offered this take on what David Goyer is doing with the Superman story:
"It's a different story. I won't say there's a break from the canon or anything like that, but there is definitely an approach that makes you go, 'Okay, that's a way to get at it.' David is very respectful of the canon and stuff like that. It has its roots in the canon and again, like I say, it has a point of view about who [Superman] is. I'm being cryptic, I know, but it's the best I can do."
Spider-Man Reboot:
Martin Sheen, who I would certainly consider one of Hollywood's most avuncular actors, has reportedly been cast as the new Uncle Ben in Marc Webb's reboot. It's unclear whether he will appear in the main narrative, which would suggest the story is retelling Spider-Man's origins from the beginning, or whether he will (probably more likely) just appear in flashbacks. Either way, this fits well with earlier reports that the filmmakers were casting a child Peter Parker, which definitely would involve scenes when Uncle Ben was alive. Also, another report says Sally Field is in talks to play Aunt May. [The Hollywood Reporter and Reuters]
G/O Media may get a commission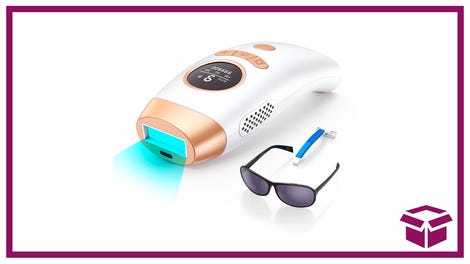 58% Off + Coupon
IPL Hair Removal Device
Skyline:
Some behind the scenes footage has been released: [SpoilerTV]
Click to view

Pride and Prejudice and Zombies:
Scarlett Johansson reportedly won't be replacing Natalie Portman after all. Bradley Cooper reportedly remains the provisional choice to play Mr. Darcy, but he hasn't signed on yet. As for directors, along with yesterday's report that Mike White is a frontrunner, Doomsday director Neil Marshall and Spellbound's Jeffrey Blitz are also in the running. [Los Angeles Times]
Dark Shadows:
Tim Burton and Johnny Depp's update of the 1960s horror soap opera will reportedly begin shooting in April of next year. [ShockTillYouDrop]
Transformers 3:
Based on a new casting call, the movie is going to New York for some quick shooting. They are looking for "Arabic/Middle Eastern, South Asian/East Indian, and African men and women with traditional ethnic wardrobe." Most likely, this is just a quick pick-up shot and not extensive shooting. [On Location Vacations]
Fringe:
A casting call is out for episode 12:
[SIMON PHILIPS] 30-35. He's damaged, intense, a thinker and a recluse. Guest Lead. Possible recurring. Please submit all races and ethnicities.
No Ordinary Family:
Here's a synopsis and promo photos for the November 23 episode, "No Ordinary Accident": [KSiteTV]
Stephanie tries to uncover the reason behind Jim's sudden loss of powers, which could put an end to his crime fighting days; JJ may be facing criminal charges after he's caught hacking into the school computer system by his teacher; Daphne uses her abilities to impress a boy; and Katie begins falling for her mysterious new beau.
The Event:
Executive producer Evan Katz and Sophia actress Laura Innes explain what's ahead for her character:
Evan Katz: Her moral compass - well, I think there's two things that are going to happen as this season progresses. One is you're going to sort of learn who she really is, because you've really only seen her - mostly seen her in captivity playing sort of a Nelson Mandela like role to the President. But the next batch of episodes, I think you're really going to see - you know, obviously she's a leader for a reason. You're going to see her steal. You're going to see the difficult and sometimes shocking and ugly things a leader has to do. But, her moral compass - I think she's essentially been a very honest character. But you know, in the next couple of episodes you're going to learn what her true relationship with Thomas is, what her real priorities are now that she's out, and what the - a little bit more about the structure and challenges of her - challenges to her leadership.

Laura Innes: And then, I guess I would say the same about Sophia. The character that I play was originally written for a man, and they changed the character into Sophia. And I love the fact that like Carrie, she is very secretive, that she is by necessity private. I really like the fact that she has this back story that only we know about. You know the writers and creators. And to some extent, only I know about because there is so much that is unknown and undecided you have to make it up.
Evan Katz then explained there isn't really one specific event to which the show's title refers. Rather, every season will end with a major event that impacts all the characters and changes the status quo heading into the next season. He also said nobody's theories have quite correctly guessed what the detainees actually are, but there's a big surprise coming soon that will go a long way towards answering that question. Also, both Scott Patterson and Paula Malcomson's characters will have roles to play in the upcoming episodes.
Supernatural:
Here's another promo and sneak peek for the next episode, "Family Matters": [Zap2It]
A bunch of new cast photos have been released: [SpoilerTV]

Smallville:
One more promo for episode 7, "Ambush": [SpoilerTV]
Additional reporting by Katharine Trendacosta and Charlie Jane Anders.