Now that the science fiction anthology series Black Mirror is available on Netflix, Americans are discovering what people in the UK have known for years. This show is so dark, intense, and smart that it will rewire your expectations about what television can be.
Created by beloved/reviled UK media satirist Charlie Brooker, Black Mirror at its best explores how social media of the future will bring about an info-dystopia — or, at best, land all of us in new kinds of personal hell. Brooker and his co-writers on this series do an incredible job imagining where things like Facebook, Twitter, and Google Glass might take us.
We've been covering Black Mirror from the beginning, and if you want to catch up, check out our reviews of the first two seasons, as well as the recent Christmas special:
Season One:
Black Mirror is television science fiction at its best
Season Two:
Dystopian British TV series Black Mirror returns to twist the knife
G/O Media may get a commission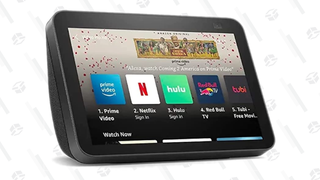 The final episode of Black Mirror gives you Big Brother for the social media age
Christmas Special:
Black Mirror's Christmas Special Is a Yuletide Nightmare You Have to See
Also, if you are finished with Black Mirror and want more Brooker madness, I highly recommend his 2008 series, Dead Set, about what happens when the only human survivors of a zombie apocalypse are the idiots making reality TV series Big Brother on a closed set (bonus: the show was filmed on the actual Big Brother set). It's gory and fucked up as all hell. Perfect for ringing in the new year.