This past month, the Core 2 Duo laptop announcements flew by hard and fast. Intel's new Merom chips got jammed between the legs of every notebook out there, and the morning-after reviews are finally upon us.
The machine with the most acclaim? The Dell XPS M1710 Core2Duo gaming laptop. This big boy gets a 2.33Ghz CPU, an Nvidia GeForce Go 7900GTX gaming card, Wireless-N. PC Magazine's all hot and bothered by it, digging deep to come up with the "Awesome" verdict. But our review, patched together from the undead limbs of other reviews, will be better. How does the Dell compare to an HP, and a slightly less endowed Dell Inspiron? See the chart, and jump for choice quotes on each machine.
G/O Media may get a commission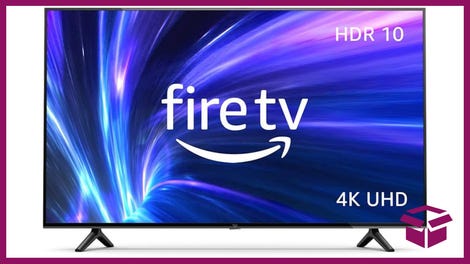 42% Off
Amazon Fire TV 50" 4K Smart TV
Frankenreview MEGA XTREME TIMES THREE



Dell XPS M1710 (high end)
"Continues to shine as the best gaming laptop on the market."
"When it comes to 3D games, though, the XPS M1710's new processor alone couldn't provide a performance bump"
- Low gaming resolutions will see performance bump. Higher resolutions will not.
"...quickly dispensed with processor-intensive tasks such as encoding MP3 files and multitasking"
"The biggest improvement comes in my video encoding tests. Thanks to the Intel Core 2 Duo mobile processor, video professionals should see more than a 20 percent differential."
- Edit that furry documentary you've been hanging on to.
-"The M1710's performance scores even surpassed those of the Area-51 m5550, made by Dell's recent acquisition, Alienware, even though both machines have the same processor."
-Doom 3 scores benefited the most from the processor upgrade, leaping 28 percent. Splinter Cell scores also improved by 15 percent.
-Battery life just over 2.5 hours.
Dell XPS M1710 Core 2 Duo Laptop Stat Smather:
Type: Gaming, Media
Operating System: MS Windows XP Media Center
Processor Name: Intel Core Duo T2600
Processor Speed: 2.16-2.33 GHz
RAM: 2048 MB
Weight: 8.8 lb
Screen Size: 17 inches
Screen Size Type: widescreen
Graphics Card: nVidia GeForce Go 7900GTX
Storage Capacity: 100 GB
Wireless: 802.11a/g
Primary Optical Drive: DVD+R D
HP Pavilion dv6000t (Midrange)
"...we love HP's QuickPlay feature for launching and controlling multimedia files"
"...deliver[ed] the best MobileMark 2005 score we've ever seen from a mainstream portable"
"The biggest differences (over 20 percent) can be found on running tasks such as video and audio encoding."
- We love our video.
"Battery life is mediocre, if not disappointing, at a mere 2 hours 27 minutes."
"Battery life was a respectable 3 hours and 39 minutes."
- FIGHT!

HP Pavilion dv6000t Stat Smather
Type: General Purpose, Media
Operating System: MS Windows XP Professional
Processor Name: Intel Core 2 Duo T7400
Processor Speed: 2.16 GHz
RAM: 512 MB
Weight: 6.1 lb
Screen Size: 15.4 inches
Screen Size Type: widescreen
Graphics Card: nVidia GeForce Go 7400
Storage Capacity: 120 GB
Wireless: 802.11a/g
Primary Optical Drive: DVD+R DL

Dell Inspiron E1405 (cheap)
"...the performance gains I had expected from the processor upgrade really didn't come to fruition"
"It appears to be about 10% faster than the proceeding Core Duo"
"...media related tasks will benefit more than office applications will from an upgrade to a system with the T5500 chip"
- Considering the E1405's price, there might be another bottleneck going on here.
"At the end of the day...who can argue with paying the same but getting more?"
- Even if it's just a tiny bit more.

Stat Smather for the Dell Inspirion E1405
Type: General Purpose, Value
Operating System: MS Windows XP Media Center
Processor Name: Intel Core 2 Duo T5500
Processor Speed: 1.6 GHz
RAM: 1024 MB
Weight: 5.8 lb
Screen Size: 14.1 inches
Screen Size Type: widescreen
Graphics Card: Intel Graphics Media Accelerator 950
Storage Capacity: 80 GB
Wireless: 802.11a/g
Primary Optical Drive: DVD+R DL
PC Mag [Dell XPS]
PC Mag [HP Pav]
PC Mag [Dell Insp]
CNET
Computer Shopper
Notebook Review
Laptop Mag