The nebulous territory of "good" and "bad" taste have always confused me. Who are you to tell me what completely unaffordable couch I should or shouldn't buy, well-meaning Architectural Digest editor? Well, back in 1909, a German art historian named Gustav E. Pazaurek devised a system to help us all out. Let's call it a bad-design-o-meter.
Pazaurek lived during a time when modern ideas about functionality were just starting to creep into the conversation. A year before, a critic named Adolf Loos had penned an essay called Ornament and Crime, in which he argued that a truly modern gentlemen prefers smooth cigarette cases over decorated ones, among other riskier ideas, like the assertion that people who get tattoos are degenerates.
Pazaurek didn't go that far. But he did argue that "if we want to discern what good taste is, we must first eliminate bad taste." So he opened up an archive—a "cabinet of bad taste," as he called it—which catalogued hundreds of different design crimes. His criminal archive ranged from Technical Surrogates, or objects that are machined to look handmade, to Cadaver Chic, or objects like taxidermy, which celebrate man's triumph over nature.
Pazuarek collected hundreds of objects—dozens of which are on view this month at the Museum der Dinge (Museum of Things), in Berlin. The museum's curators have also encouraged people to submit their own contemporary examples, some of which you can see on their website.
In the end, there's still no real way to quantify the badness (or goodness) of an object. But Pazuarek's instinct—to think about design analytically—was important, and paved the way for the "manifesto" culture of modern design. He probably would've been horrified by the havoc irony is wreaking in today's world, where everything bad is also sort of good.
G/O Media may get a commission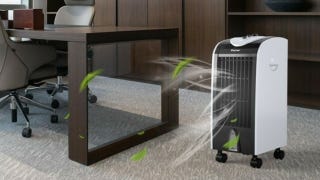 Save $10
Evaporative Portable Air Conditioner Cooler with Filter Knob
It's still an interesting question, though: if you could nominate one object for Pazuarek's cabinet, what would it be? [Evil Things: An Encyclopedia of Bad Taste]
This alarm clock offends several of the "crimes," including Unfitting Decorative Motifs and Exotic Ornamentation, described as "motifs and ornaments copied from past stylistic currents and foreign cultures."
The skeleton cellphone holder is probably Bizarre Materials, but it could also be an Artistic Prank. Same goes for the thumb USB drive. The cellphone falls under Manic Ornamentation, which can apparently "deteriorate into the "infectious and therefore very dangerous illness of ornamentational rage."
This rolling, taxidermied guinea pig falls under Cadaver Chic.
Mickey flower pot is likely Travel Souvenir Kitsch, while the wood wine opener is Violations of Materials, which describes "objects made of perfectly good materials which are poorly or not at all suited to the purpose at hand."
The gun lamp and the 9/11 rug are probably Glorification of Violence, the FIJI bottle touches on a handful of crimes, like Waste of Resources and Tropical Ornamentation.