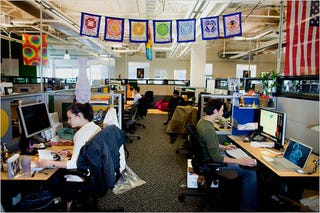 Having a bunch of smart people working for your company is good! But having all the smart people working for your company? Well, then your only option is to make deals with dumbasses, and nobody wants that!
Forgive me for taking this quote from Google VP BRadley Horowitz with a grain of salt, but it's a little ridiculous.
"I recently had a discussion with an engineer at Google and I pointed out a handful of people that I thought were fruitful in the industry and I proposed that we should hire these people...

But [the engineer] stopped me and said: 'These people are actually important to have outside of Google. They're very Google people that have the right philosophies around these things, and it's important that we not hire these guys. It's better for the ecosystem to have an honest industry, as opposed to aggregating all this talent at Google.'"
"Sorry buddy, you're just too smart for this world. It just wouldn't be right for you to join the Google brain trust when you'd raise the average IQ over at Palm by a good dozen points." [The Register via Valleywag]