Google's misadventures in Wi-Fi data collection continue, as attorneys general from about 30 states are weighing a large-scale investigation of the company over their use of Street View cars to illicitly gather Wi-Fi network information. This could get ugly.
The legal minds gathered in a conference call last Thursday to discuss what should be done, and if they should act in concert. According to Connecticut AG Richard Blumenthal, who spearheaded the effort:
"Violating legitimate expectations of privacy on the part of both homeowners and business people is an extraordinarily serious issue, and we want all the facts as quickly as possible... At this point, we are asking questions and frankly some of the answers we received so far have raised additional questions that we have put to the company."
Those answers may have something to do with Google's own audit of the situation, which showed fairly clear intent that the company has tried to pass off as the work of a rogue engineer.
G/O Media may get a commission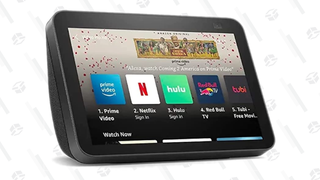 For their part, Google reiterated that collecting unknowing people's Wi-Fi network information with their Street View cars was a "mistake," but not illegal. It sounds as though the courts will be the ones making that distinction soon enough. [NY Times]