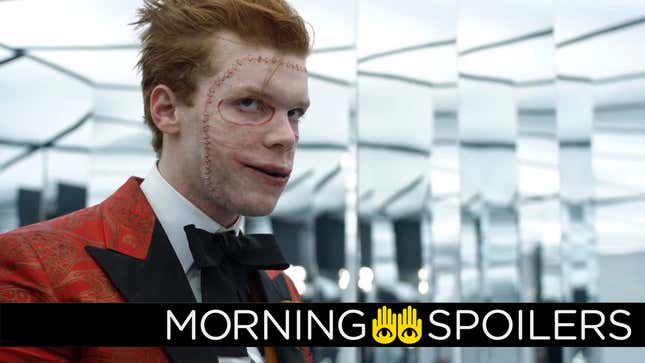 Titans casts another member of the Doom Patrol. The Flash could be looking to cast a few deep comics cuts. Jonathan Nolan teases a weird new host coming to Westworld. Plus, our first look at the season finales of The X-Files and Channel Zero, and Dove Cameron makes her Agents of SHIELD debut. Behold, spoilers!


Black Hole
THR reports Rick Famuyiwa (Dope, and previously attached to helm The Flash movie) will direct the film adaptation of Charles Burns' comic book series about an alien STD infecting a group of teenagers in the 1970's.
---
Caught
Here's the first trailer for Caught, in which a pair of menacingly calm aliens invade the English countryside.
---
Gotham
Speaking to Comicbook.com, lil' Bruce Wayne himself David Masouz says fans can expect the "true" identity of the Joker will be revealed in the back half of the current season after the show has spent years using its particular brand of subtlety with Jerome as an elaborate, face-sown-on red herring:
It really is one of the biggest shocks, I think it's safe to say that this kind of transition is not only the smartest thing, but the biggest kind of surprise that Gotham has thrown at its audience. Gotham loves to kind of have a shocker moment. I mean, I'm sure we'd love to have crazy cliff hangers, but this is one that is not even on the same level as anything we've done before. I mean, the second I read that in the script, I was like, 'Oh my God. Yes. That is perfect.'

We've been asking ourselves this question, 'Is Jerome the Joker? He obviously is acting a lot like the Joker. Is he the Joker?' This is a perfect way to answer that, because we don't want to say yes, but we don't want to say no. We don't want to say no because Jerome is so much like the Joker, so what they end up doing is kind of a great balanced way to answer that question and to have Jerome maybe be involved in the creation of the Joker but have him not be the Joker.
---
Titans
Dwain Murphy (Degrassi: The Next Generation, Star Trek: Beyond) has been cast as the Doom Patrol's Larry "Negative Man" Trainor. [Den of Geek]
---
Charmed
Rupert Evans has joined the cast of the Charmed reboot as Harry, the Whitelighter/Guardian Angel of the three new witch sisters. [TV Line]
---
The Umbrella Academy
Deadline reports John Magaro has been cast as Leonard Peabody, "a sweet Average Joe who begins to take music lessons from Vanya (Ellen Page) and sees something special in this constantly dismissed wallflower."
---
Constantine
The Constantine animated series will debut on CW Seed March 24. [Coming Soon]
---
The Flash
According to That Hashtag show, The Flash is currently casting three "deep cuts" in Barry Allen's rogue's gallery: Crucifer, Null, and The Folded Man.
[NULL] Female, mid 20s, African American. An accomplished jewel thief who has escaped capture for a long time. Has the ability to manipulate gravity. Sassy, but dangerous. RECURRING GUEST STAR

[CRUCIFER] The leader of the Tenth Circle, Crucifer is a scarred brute who fights Breacher (Danny Trejo). No lines.

[EDWIN/ FOLDED MAN] Male, 30s, Open Ethnicity. A hippie-type, Edwin has his life upended when he develops a power that makes him very hard to track.
---
The Magicians
Good news! The Magicians has been renewed for a fourth season at Syfy. [TV Line]
---
Archer: Danger Island
The latest season of Archer debuts April 25th on FXX. [Spoiler TV]
---
Lucifer
Chloe and Lucifer search for a killer with an ax to grind against happy couples in the synopsis for March 19th's episode, "The Last Heartbreak."
As Chloe and Lucifer go on the hunt for a serial killer targeting couples in love, Pierce realizes the case is connected to a murder he previously solved...in 1958. Then, Lucifer becomes upset when Pierce has a change of heart about an important decision.
---
Westworld
Speaking with Entertainment Weekly, showrunner Jonathan Nolan revealed the faceless, white robot seen in a recent promotional image is called a "drone host."
The drone hosts relate to the corporation's secret project which is hidden in plain sight in this park. As we talked about in the pilot, the park is one thing for the guests, and it's another thing for its shareholders and management — something completely different. We've used the Google analogy — for consumers, it's for search and email, yet for the company, it's for advertising. There is an agenda here that Delos has undertaken for a very long time. As Bernard is making his way through the wreckage of the fallout from the first season, he's discovering things about the park that even he doesn't know and coming upon creatures like the drone host.
---
Agents of SHIELD
Dove Cameron debuts as Ruby in a clip from this Friday's episode, "All the Comforts of Home."
---
Channel Zero
Rutger Hauer takes on a reptilian appearance as he manages to actually really pull off reflective sunglasses in pics from the season finale, "Sacrifice Zone." More available at Spoiler TV.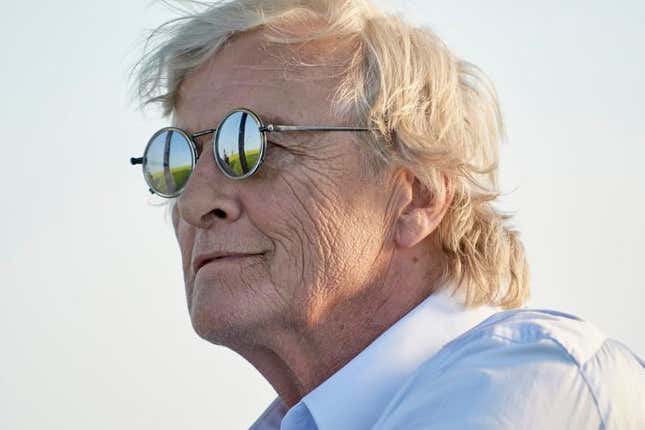 ---
Legion
The latest Legion promo tries to win over new viewers with bowl cuts and excessive teeth chattering.
---
The X-Files
William finally meets the Cigarette Smoking Man in the synopsis for the season finale of The X-Files, "My Struggle IV," courtesy of Spoiler TV.
Mulder and Scully rush to find an on-the-run William, while the Cigarette Smoking Man pushes forward with his ultimate plan in the all-new "My Struggle IV" season finale episode of THE X-FILES airing Wednesday, March 21 (8:00-9:00 PM ET/PT) on FOX.

Cast: David Duchovny as Fox Mulder; Gillian Anderson as Dana Scully; Mitch Pileggi as Walter Skinner

Guest Cast: William B. Davis as Cigarette Smoking Man; Miles Robbins as William / Jackson Van De Kamp; Annabeth Gish as Monica Reyes; James Pickens Jr. as Alvin Kersh; Joel McHale as Tad O'Malley; Barbara Hershey as Erika Price; AC Peterson as Mr. Y; Sarah Jeffery as Brianna Stapleton; Madeleine Arthur as Sarah Arthur; West Duchovny as Maddy
Finally, meet the horrifying "Mr. Trouble Teeth" in the promo for next week's episode, "Familiar," which sees Mulder and Scully investigating a brutal animal attack against a small boy.
---
Banner art by Jim Cooke.