The New Xbox Experience is ready to go live soon as part of the Xbox fall update, and after getting some quality face time with the UI and it's new features, I'm pretty impressed. The update addresses the core Xbox software on two levels: most notable is that the design of the UI received a complete overhaul, (mostly) eschewing the blades for a more immersive, intuitive, Media Center-like experience. Secondly, it adds new functionality, allowing for Netflix streaming, group-based gaming, heavily customized avatars, ripping games straight to HDD and an all new quick menu that comes up when you hit the home button.
The first thing you notice while using the new UI is how fluid and dynamic it is. Microsoft wasn't content to just create some static screens and call it a day. Many of the menus have multiple animations and 3D elements at work, which give the software life. Your avatar sits on the menu, fully rendered, loafing around on your screen. Moving from section to section is so fluid that you stop thinking about what you're doing with the controller. There's also the Spotlight menu subset, which highlights the games and features of the Xbox you use the most, so that you don't have to waste time surfing menus. And this efficient mindset extends thoughout the entire Xbox UI.
A new change is that when you hit the home button, a medium-sized box pops up in the middle of your screen with multiple blades that can be shuffled by moving the analog stick left and right. This is a quick menu of sorts that streamlines the entire menu into a no nonsense, text based interface that lets you browse and navigate whatever information you need with a swiftness. You can look up friends, change games, adjust settings, go to your gamer profile, or launch the full dashboard. This was designed around the original Xbox UI, with the seasoned gamer in mind who just wants to carry out a specific task with no fuss. What's nice it is that it doesn't overwhelm the screen like the original UI did in terms of size and layout.
G/O Media may get a commission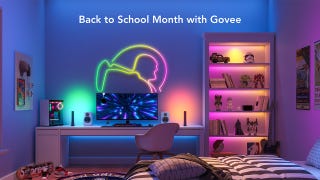 Back to School
Back to School Month with Govee Sale
We've touched on it before, but the level of customization you can put into your avatar is nuts. Clothes, Face, Body and Hair are all heavily modifiable within the avatar creator. And they not only feature prominently in menu system and Xbox Live's social features, but they will also be integrated into more games down the road. The ability to rip games to your HDD is a neat feature that can not only cut down on load times, but the sound that comes with using the DVD drive. It's not intended to archive your entire games library, but rather the few games you play ALOT. In this context, I see it being very handy. It still requires you insert the game disc when you start a game each time, just so it can verify it's not a pirated copy, but after that, the disc drive lies dormant. I didn't get a look at the Netflix software in this version of the UI, but based on the performance of the Roku and the screens of the Xbox Netflix interface, you can pretty much guess what that experience will be like. Theme junkies will be glad to know that Themes 2.0 for NXE are far more integrated into the UI than before. Instead of a background and matching color scheme, Themes 2.0 now has features like 3D renderings instead of tiles behind each menu object, that relate to the theme in some way. Party-style gaming is another new feature Xbox put a lot of effort into and are touting as a main feature in this new UI. I didn't get to see a ton of this mode in action, but I got the sense it will be popular amongst groups of friends who don't always want to play the same game the entire time they're on Live, but want to stay in touch just in case. The menus for creating parties are pretty simple, as you only need to select create party or invite friends and add friends from a list. Lastly, the Video and Game Marketplaces has been revamped and are pretty well thought out. There are multiple ways to search for content, whether it be XBLA games, XNA games, additional game content, or video, you can search by name, genre or category, and the list continuously repopulates itself as you refine your search string letter by letter. Featured titles appear in the front menu. Overall, the New Xbox Experience seems to be focused around an polished and efficient experience. We'll be getting our hands on the final version soon, so keep your eyes peeled for a full review. [New Xbox Experience on Giz]