Harrison Ford is ready to don the fedora and bullwhip for one more Indiana Jones movie...and George Lucas is working on it. Skyline has a twist ending that will throw everything that came before in a whole new light. Spoileranza!

Skyline:
Eric Balfour already hinted there's more to the aliens than what we've seen so far, but now co-director Colin Strause reveals the entire film has an ending that we'll never see coming:
What I'm hoping is... to me the thing that was the most exciting part of the project is actually the last twenty minutes of the film. Like, when people realise what this movie is actually about, what it's setting up and what it's ... It's kind of like a secret ending in the film, and the entire arc of the movie, I don't think anyone will ever get [it] while they're watching the movie. And then when it's over, they're gonna go like, "Oh, shit, that's what this movie was really about?" That's what I'm actually most excited about seeing with an audience.
We don't know too much about the context, but Balfour says his least favorite moment of filming was when he was covered in alien blood and guts on the roof of a building. So if they do get out of this... well, it should get messy. [FEARnet]
G/O Media may get a commission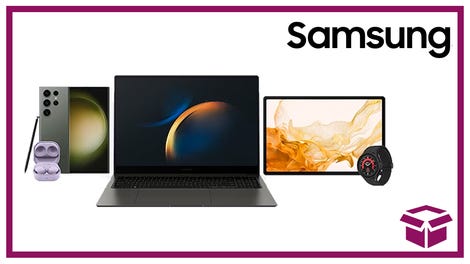 24 hour deals
Discover Samsung - Daily Deal
Star Trek 2:
In a real break from his usual secrecy, J.J. Abrams brazenly revealed the sequel has a story... and it's cool:
We are working on it now. The script is being sort of fully outlined and then the writers will start working on the script. But, the story is really cool!
Indiana Jones 5:
Harrison Ford, who has long been one of the three main creative forces behind the film series, says he wants to make a fifth one, and it sounds like George Lucas is on board too:
"It's on George's plate. And I'm hoping he's working hard at it, because I'd look forward to doing it again if the three of us could get together — George, [director] Steven Spielberg, myself — I'd love to do another."
In another interview, he confirmed Lucas is indeed working on a concept for the fifth movie right now. [Access Hollywood]
Cowboys and Aliens:
Harrison Ford explained how the film shifts between genres:
"It's a real cowboy movie, looks like a cowboy movie, feels like a classic cowboy movie, and then things happen, and then it goes back to being a cowboy movie with this added element. And I think it's the kind of film that there's a real broad audience for. I'm very excited for it. I think it's going to be good."
Now:
Here are some new set photos of Justin Timberlake and Amanda Seyfried from the set of their immortality thriller: [Wenn.com]

Contagion:
Democratic senator Dick Durbin says he is filming a one-line cameo in Steven Soderbergh's sci-fi plague thriller... as a U.S. Senator. [Washington Post]
Lock Out:
Guy Pearce and Peter Stormare will reportedly star alongside Taken actress Maggie Grace in a sci-fi thriller set in a space prison. Pearce plays a wrongly convicted government agent who has to save the president's daughter (Grace) during a riot. No word on who Stormare is playing, but knowing his oeuvre he'll probably be some villainous psycho. [Screenhead]
Ghost Rider 2:
Some of the first set photos from filming in Eastern Europe have emerged. There's more at the link: [Facebook]

Transformers 3:
Here are some more set photos, spotlighting Shia LaBeouf and Rosie Huntington-Whiteley: [SpoilerTV]

Fringe:
Here's a sneak peek for episode 6, "6955 kHZ": [#FringeWatch]
The Walking Dead:
Here's a sneak peek for the next episode: [KSiteTV] Click to view

Five new videos are out in which various cast members explain their characters: [Llegaron para quedarse; original page in Spanish]
Here are short synopses for the remaining episodes:
EP 103 – "Tell It To The Frogs": Rick makes a decision to go back to Atlanta to retrieve the bag of guns and save a man's life. Lori and Shane must deal with the surprising return of someone they thought was dead.
EP 104 – "Vatos": Rick's mission to Atlanta is jeopardized when things go awry. Jim becomes unhinged in camp.
EP 105 – "Wildfire": Rick leads the group to the CDC after the attack. Jim must make a terrible life and death decision.
EP 106 – "TS-19": Rick and the group are allowed into the CDC, by a strange doctor. But all is not what it seems in their newfound haven.
[KSiteTV]
Chuck:
Here's a new promo for episode 8, "Chuck vs. the Fear of Death": [SpoilerTV]
Here's a synopsis for episode 10, "Chuck vs. the Leftovers": [SpoilerTV]
Chuck's mom comes over for ``Thanksgiving leftovers'' dinner the day after the holiday; Morgan and the rest of the Buy More crew deal with the busiest shopping day of the year.
Episode 13 will reportedly be called "Chuck vs. The Push Mix." [SpoilerTV]
Supernatural:
Episode 13 will reportedly be called "Unforgiven." [SpoilerTV]
The Event:
Here's a promo for episode 8, "For the Good of Our Country": [SpoilerTV]
Additional reporting by Katharine Trendacosta and Charlie Jane Anders.