X-Files star Gillian Anderson has co-written her first novel, A Vision of Fire, and we've got an exclusive taste of the audiobook, read by Anderson. Plus glimpses of some early cover concepts that were more X-Files-oriented. That's just one of the books from Simon & Schuster's new imprint Simon451.
We talked to senior editor Sarah Knight about what else to expect from Simon451.
Simon451 is a new imprint, publishing science fiction, fantasy and post-apocalyptic books. Most of its titles will come out as e-books first, and then later as print books if sales warrant it. The imprint's fall 2014 launch includes A Vision of Fire by Anderson and Jeff Rovin, plus Orbs and Orbs II by online publishing sensation Nicholas Sansbury Smith, The Protectors by Trey Dowell and The Undying by Ethan Reid. And next spring, Simon 451 will publish The Dark Side by Anthony O'Neill, a noir crime novel set on a lunar colony which was just optioned for film by 20th Century Fox. Read a free sampler here.
Here's your exclusive excerpt, the prologue and chapter one of the audiobook of A Vision of Fire:
G/O Media may get a commission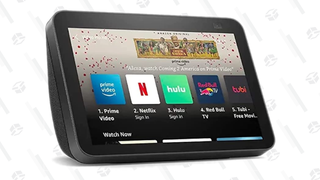 From THE VISION OF FIRE by Gillian Anderson and Jeff Rovin. Copyright © 2014 by Gillian Anderson and Jeff Rovin. Excerpted with permission by Simon & Schuster, a Division of Simon & Schuster, Inc.
Here are a few early cover images for A Vision of Fire that were tried, along with the publisher's notes:
This was one of our first attempts at a cover. We wanted something that looked like a big bestseller, and this certainly delivers—the volcano is amazing—but in the end we thought it wasn't specific enough to the actual story.
For a little while, we tried experimenting with the classic X-Files aesthetic, a throwback to Gillian Anderson's days as Agent Scully. Both of these covers are bold and graphic, but in the end, we thought relying too heavily on the X-Files (no matter how much we loved the show) was just a bit too on-the-nose.
We knew we'd found the right cover as soon as we saw this version! It was bold, exciting, and just a little bit scary. The dark cityscape speaks directly to the sense of foreboding that surrounds the story, and the symbol (an important aspect of the story) hints at the book's speculative and mystical elements.
We talked to Sarah Knight, the Executive Editor of Simon451, and she told us that they decided to start the imprint because Simon & Schuster wasn't paying enough attention to "science fiction and fantasy, and the attendant genres." This was the same reasoning that led to the launch of another new imprint at S&S, Saga.
"We were seeing 50 percent of our sales coming from e-books," in these genres as well as romance and thrillers, says Knight. "We didn't have any way to be putting out e-book originals in a strategic and smart [fashion]." She points out that Simon & Schuster had taken on e-book sensation Hugh Howey and published print versions of his books. "That's what I'm hoping for with all our authors, except they're home grown to begin with."
E-books are perfect for these sorts of books because they're a lower-cost option, similar to the way mass market paperback (MMPB) books were 30 years ago, Knight adds. "The thing that those [didn't] have that e-books do is just tremendous flexibility in terms of pricing" and packaging — including the ability to experiment with ultra-low prices for a while, but also to change a book's cover copy to emphasize one aspect of the story instead of another, if the marketing doesn't seem to be working. Knight imagines saying, "We're harping on the dystopian angle, maybe we should be harping on the brother-and-sister angle" instead — and being able to change a book's jacket copy instantly.
"I don't want to deprive people who spend time reading in print, but publishing is becoming more of a niche business," adds Knight. "I'm not throwing things at the wall and seeing what sticks, I'm throwing three specific things at three specific [groups of] people," because e-books can be so incredibly targeted. She sees herself as doing what publishers have always done: take a new format and run with it. "It's not the container, it's the content."
Knight says she's learned a lot from working with Sansbury Smith, who already had a lot of experience selling e-books, and who is already putting out Orbs III early next year. She appreciates the ability to get books out quickly and affordably. "My mom was a thriller reader, and she would have to wait a year for the new Sue Grafton or the new Mary Higgins Clark to come out in mass-market paperback," says Knight. "We're just trying to give readers what they want, when they want it."
Some other publishers, like Tor, have launched e-book imprints focusing on shorter books, like novellas, but Knight doesn't agree that this format is necessarily better suited to shorter works. The e-book consumers are "voracious readers," she says, who always want more. "They just want to keep their nose in a book, so if we have a capacity to publish a 30,000 or 40,000 novella by our authors in between their longer works and feed that machine, keep them reading," that's a good thing. But so is putting out full-length books more quickly, she argues.
She says Simon451 hasn't carved out a particular niche, other than "great writing and great stories." She personally leans towards thrillers, but some of the other acquiring editors have been picking up high fantasy books like The Dragon Round by Stephen Power.
"I've been thinking for a while, if people can get real success from self-publishing, what do they need us for?" says Knight. "So I'm trying to remind people that we do have value." Including the value-adds of copyediting, proofreading and book design, but also "a publicist and real attention." Thus far, only a couple of authors have balked at the idea of having their books come out first as e-book originals.
Given that there are fewer risks in publishing e-book originals, I asked whether we might see Simon451 take more chances on diverse authors, including writers of color. Knight responds:
I've always been open to diversity in my list, but what I would say is we can take more chances that we might otherwise have had to say no to, for reasons such as 'Oh, this is really good and I really like it, but the author lives in Australia, and we're not going to have them for promotion and Barnes & Noble isn't going to order copies.'
She adds that they can also take chances on authors who've had books fail in the past, which might result in low orders from bookstores — but it doesn't matter at all with online book sales. She also won't be as likely to pass on books that are hard to categorize, because with brick-and-mortar bookstores you have to figure out where to shelve the book — something that's not a problem online.