Amazon's Gold Box deal page has been taken over by highly rated kitchen gear, today only. There are dozens of items to check out (most are hiding in this Thanksgiving section), but these are some of our favorites. These prices are only valid today, or until sold out, so be sure to check out the full list. [Amazon]
Rachael Ray Hard Anodized II Nonstick Dishwasher Safe 14-Piece Cookware Set ($150) | Amazon
Cuisinart Chef's Anodized 8-Piece Cookware Set ($90) | Amazon
G/O Media may get a commission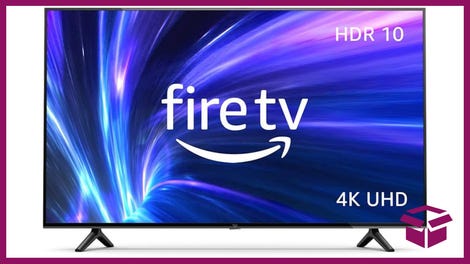 42% Off
Amazon Fire TV 50" 4K Smart TV
WearEver Pure Living Nonstick Ceramic Dishwasher Safe 10 Piece Cookware Set ($55) | Amazon
Taylor 1470 Digital Cooking Thermometer/Timer ($12) | Amazon
Rubbermaid 42-Piece Easy Find Lid Food Storage Set ($15) | Amazon
FoodSaver FreshSaver Handheld Vacuum Sealing System ($6) | Amazon
Pyrex 1118990 3-Piece Measuring Cup Set ($12) | Amazon
Laroma 15-Inch Pizza Stone ($10) | Amazon
---
Representing a step-up from the popular Arc3 and Arc4 series, Panasonic Arc5 is a top of the line electric razor with a top-shelf price to match. Today though, Amazon's offering a $100 off coupon to bring the total damage down to $151. [Panasonic ES-LV61-A Arc5 Electric Shaver Wet/Dry with Multi-Flex Pivoting Head, $151 after $100 off coupon]
---
If you're ready to upgrade your home network to 802.11ac, this Linksys router should last you a good long time. Today's deal is $20 off the usual selling price, and an all-time low. [Linksys AC2400 4X4 Dual-Band Gigabit Wi-Fi Router, $230]
---
This scale won't sync data to your phone or give you workout advice, but at $19, you'd be hard pressed to find something that looks nicer. Great reviews too. The code is valid on the silver model only. [ Balancefrom High Accuracy Plus Digital Bathroom Scale with Backlight LCD and Step-On Technology, $19 with code 72WKNC7C]
---
The Roku Streaming Stick has some healthy competition in the form of the Chromecast and Amazon's Fire TV Stick, but if you're tempted by Roku's simple on-screen interface and 1800+ app ecosystem (including Google Play!), you're in luck today.
Newegg is currently offering refurbs of the Stick for $35, which is $15 under MSRP, the best price we've seen, and $5 less than Best Buy's upcoming Black Friday deal. This would obviously make a great gift, and if you still own any TVs without a streaming box attached, you'd be hard pressed to find a better bang for your buck. [Newegg]
---
Black Friday is the best time of year to buy a new TV, but you don't have to wait until the turkey coma wears off to secure a great price.
Amazon has opened preorders for 15 different Samsung TVs at prices that match or exceed the "leaked" Black Friday deals from other retailers like Best Buy, Sears, and Walmart. The TVs won't ship until next week, but if you have your eye on a specific model, ordering it now will make for a less stressful Black Friday weekend.
Options range from a 32" Smart TV for $248, all the way up to a face-melting 78" curved 4K setfor—you might want to sit down—$6,998. That's a bit of an extreme example though, because this really is a great chance to upgrade to 4K at more traditional sizes without breaking the bank.
For example, this 50" 4K set is only $798 during the promotion, which is one of the most affordable deals we've seen on a 4K TV from a manufacturer not named Seiki. If you want a faster refresh rate, and a conversation piece to boot, this 55" curved 4K model is a steal at $1,298.
At this time of year, it's tempting to say "I'll wait for Black Friday," whenever you see a deal, but seriously, these are the same prices you'll see on and after Thanksgiving on these exact same TV sets, but with none of the fuss, so buy with confidence. [ Amazon]
---
We're all familiar with USB battery packs, but this one can charge (Windows) laptops as well. Check to make sure your model is supported before buying, but if it is, this is a pretty unique item. [ Intocircuit Power Castle PC26000 26000mAh External Battery Pack, $80 with code 96335NNB]
---
It never hurts to keep some spare HDMI cables around. [ 4-Pack of 6-ft HDMI Cables, $10]
---
If you, or anyone on your holiday shopping list wants a new Kindle, Kindle Fire, or Fire TV, here's a rare chance to save $40 on almost model, directly from Amazon.
All you have to do is sign up for Amazon Prime, and add (almost) any Kindle e-reader, Kindle Fire tablet, or Fire TV to your cart in the same transaction. If you already have Prime (and you should), this deal also works when buying a 1-year gift subscription, which you can just give to yourself to add another year onto your plan.
If you're planning on renewing or ordering Prime anyway for the holiday shopping season, this is basically $40 of free money. The discount brings the new entry-level Kindle down to an absurdly cheap $39, and the expensive-but-amazing new Kindle Voyage down to $159, both all-time lows.
---
This little Bluetooth remote can pair to your iOS or Android smartphone to control music playback, invoke voice control, and even control your camera's shutter from up to 30' away. [New: GOgroove BlueGATE RMT Bluetooth Multimedia Photo Shutter Remote Control, $20 with code DEALSRMT]
---
$35 is a good price for a Bluetooth speaker; doubly so when it includes a USB battery pack and FM radio. [Gogroove BlueSYNC SPB Portable Battery Charger for Smartphones with Wireless Bluetooth Speaker , Integrated FM radio and Power Bank, $35]
---
The complete Battlestar Galactica on Blu-ray for $90, a good deal, so say we all. [BSG]
---
The beautiful, hardcover Star Trek Federation: The First 150 Years has glowing critical and consumer reviews. You can own it today for just $20, which is lightyears away from its usual $60 price.
A definitive history of the federation, it takes Star trek seriously. - Amazon review from Thomas Joseph Marrone
---
Mobile Gaming doesn't get much better than Monument Valley. It's one of Kotaku's Best iPad Games, and today it's free on Android from Amazon.
Check out all of today's app deals in our Apps Post; lots of iPhone games on sale today.
---
If you were planing on going to Starbucks soon anyway, you might as well get a free Fandango movie ticket (up to $10) out of it.
---
The now optionally first-person Grand Theft Auto V current gen port gets a day one $10 discount. [GTAV, $50]
---
If Google+ is your network of choice, we'll meet you there too. Just add us to your circles, and tell your friends to do the same.
---
Tech
---
Storage
Power
Headphones
Home Theater
Computers & Accessories
PC Parts
Phones and Tablets
Photography
---
Inventory
---
Home
Kitchen
Fitness
Camping & Outdoors
Tools
Auto
Apparel
Bonus
---
Media
---
Movies & TV
Books & Magazines
Apps
Gaming
---
Black Friday and Cyber Monday are right around the corner. Keep it locked here for the Internet's best coverage.
We work together with you to find the best products and the best deals on them, click here to learn more. We operate independently of Editorial and Advertising, and if you take advantage of an item we cover, we may get a small share of the sale. We want your feedback.