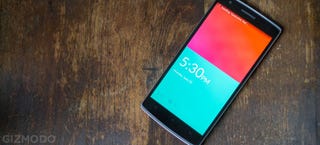 When the OnePlus One came out last year, it was a killer deal: a $300 off-contract smartphone so beautiful, it made Google look like poop for charging so much for the Nexus. The only problem was that, aside from special promotions, you needed to be invited to buy it. But that exclusivity is now over: Starting today, anyone can buy a OnePlus One, invites be damned.
Or sort-of damned— OnePlus announced that it'll keep the invite system when it launches the upcoming OnePlus 2.
OnePlus announced the One a year ago today. Of course, a year in the smartphone aging cycle is like a decade, so it's not the shiny new toy it once was— but it's still a good buy if you want to go off-contract.
Contact the author at kate.knibbs@gizmodo.com