I'm not saying you don't like your gifts. But here are the return policies at many major retailers in the US, just in case, no reason, whatever.
Amazon
To return a gift from Amazon, you need the gift's order number, and you'll get an Amazon gift card as a refund. You'll have to ship the item back before you get the gift card, so there's no instant gratification on returned orders.
Target
If you return an item with a gift receipt to Target, you get a Target gift card for the amount of money the item cost. You can return a gift purchased on Target.com without a receipt if you follow these steps:
The Online Returns Center allows gift recipients to return items fulfilled by Amazon.com, even if the order wasn't marked as a gift when it was purchased. The type of refund or credit you receive depends on how the gift was purchased and how it's returned. Gift recipients won't be eligible for exchanges or instant refunds.
Visit the manage returns page.Click return a gift.Enter the following information:1. order number
2. email address of the person returning the item
3. release ID from your packing slip
G/O Media may get a commission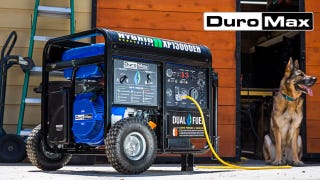 Black Friday Sale
DuroMax Generator Sale
You can't return an item with a gift receipt on the same day that the gift was purchased, so if you have received a very last minute present that you loathe, there will be a waiting period.
Walmart
You need to bring your gift into a store to exchange it for a gift card or another item. If you don't have a gift receipt, you'll need the order number or the email address of whoever bought it for you. Most items can be returned within 90 days. You might be eligible to get cash back if you have the receipt.
Best Buy
You generally only have 30 days to return a Best Buy gift, though right now all gifts purchased in the past two months are eligible for return until January 15. You can return in-store or by mail with original receipt, gift receipt, or packing slip. These are the full guidelines provided:
If an order is returned to a Best Buy store by someone other than the person who placed the order, the person returning the item will receive an in-store credit.If the order is returned to a Best Buy store by the person who placed the order, a credit will be issued to the original form of payment.If the order is canceled before it's picked up at the store, a credit will be issued to the original form of payment.
Apple Store
You only have 14 days to return stuff to the Apple Store from the time you received it. You can bring in the original receipt or the gift receipt. If you have designs to return a very generous MacBook Pro gift for cash, good luck: Apple offers gift cards for the full price of the item, but not cash. If you've been given an electronic download, a subscription to the Software-Up-To-Date program, or an Apple Developer Connection product, there are no refunds.
Fry's Electronics
Gift purchase made between November 17 and December 24 can be returned or exchanged until January 18, unless you received a device on a wireless contract or postpaid (then you have 14 days from the purchase).
Macy's
If your gift was purchased on Macys.com, you can mail it in and they will send you a gift card 7-10 business days later. You can also return the gift to a store for the same treatment. If you don't have a receipt or proof of purchase, they'll still give you a gift card, but for the lowest price the item has been available for in the last 180 days. If the gift came from a Macy's store, you can't do mail-in returns, but otherwise it's the same process. There's no time limit on returns.
Kohl's
You can return items to Kohl's with a gift receipt for an even exchange, a gift card, or a corporate-issued refund. If the gift was purchased online, you can mail it in, but you have to pay for shipment yourself, which is wack.
Nordstrom
Nordstrom does not have an official return policy. The company handles returns on a case-by-case basis, but from personal experience, you can get cash back for a gift even without a receipt if you give the salesperson adequate information about who bought it for you and you have a government-issued ID. Nordstrom: The prices are high but the return policy is flexible.
Dick's Sporting Goods
Bring in a gift receipt and get a gift card or an exchange. No receipt for that ugly basketball? You can still get a gift card credited with the lowest price of the item. There's a 90-day window for returns.
GameStop
You have 30 days to get yourself a gift card or exchange when returning something with its gift receipt.
Neiman Marcus
Whatever overpriced thing you have been given can be returned in exchange for a gift card, unless it is over $2,000. Then you can get a check, which is cool because it's money but not cool because you will have to deal with the guilt of having returned a $2,000 gift.
Williams-Sonoma
You have 30 days to get a gift card if you have a gift receipt. No gift receipt and you are stuck with that tragically expensive breadmaker forever.
Originally posted Dec 26, 2014, but updated this year to reflect any changes made to retailer policies.
Image: Hades2k/Flickr