Check out brand new looks at X-Men Apocalypse and Ghostbusters. Benedict Cumberbatch almost didn't manage to star in Doctor Strange. Kristen Bell heads to iZombie. Plus, tons of new glimpses of Shadowhunters, and the return of Supergirl. Spoilers Now!
Star Wars

Ever since The Force Awakens released, speculation has been rife about the true identity of the saga's biggest new villain: Supreme Leader Snoke, the head of the First Order. The current prevailing theory sweeping the internet —and thus beginning to make its way into the Star Wars media cycle—is that Snoke is in fact Darth Plagueis, the Sith Lord who trained Palpatine and had allegedly discovered the key to holding back death through the force.
Although Snoke does share some visual similarities with Plagueis, the "evidence" fans are turning to are a comparison of similarities between John William's theme for Snoke in The Force Awakens and the music that plays during a scene in Revenge of the Sith where Palapatine discusses Plagueis with Anakin (via Radio Times):
But so far discussion of Snoke's identity from official sources has all but denied the link between the two characters. Andy Serkis has said in the past that the character is completely new to the Star Wars universe, but more recently the art book The Art of Star Wars: The Force Awakens revealed that at some point the production team were considering that Snoke could be a female—which would rule out the male Plagueis pretty quickly, and the fact that it was under consideration does seem to imply that there isn't any real link between the two villains.
G/O Media may get a commission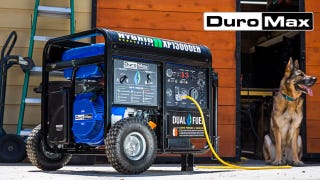 Black Friday Sale
DuroMax Generator Sale
---
Star Wars Episode VIII
Lawrence Kasdan discusses how Rian Johnson's film will differ to The Force Awakens:
These movies will all be so different. ["Episode VIII" director] Rian Johnson is a friend of mine — he's going to make some weird thing. If you've seen Rian's work, you know it's not going be like anything that's ever been in Star Wars. You couldn't have three more different people than J.J., Rian and Colin [Trevorrow, Episode IX director].
---
Doctor Strange
Kevin Feige says that the movie nearly went ahead without Cumberbatch in the lead role:
He was someone that we were very interested in for a very long time. [But] he kept getting more and more popular! He kept getting more popular, and more popular, and he kept getting busier, and busier, and it looked like the timing wasn't going to work. So we looked at some other actors for a while and ultimately decided, 'We have to try and make it work with Benedict and with his schedule.'
---
Ghostbusters
Entertainment Weekly have released a new image from the film, and a brief description hinting at some of the ghosts that the team will face:
Dead criminals from all eras of New York's under­belly past have returned to roost among the living in Paul Feig's Ghostbusters reboot. Pilgrims, old-­timey sailors, Revolutionary War spirits, and even a couple of zoot­-suited gangsters are ready to take on four formidable female busters looking to rid the city of its phantasmic filth.
---
Fantastic Beasts and Where To Find Them
Empire has an exclusive new still of Eddie Redmayne in the movie:
---
X-Men Apocalypse
And back to Entertainment Weekly, this time for a new piece of concept art of Magneto using some extremely enhanced versions of his abilities, as well as an explanation from Bryan Singer as to what Apocalypse does to his "Horsemen":
One of Apocalypse's many powers is he can imbue other mutants with greater ones. Magneto [Michael Fassbender] is demonstrating a small taste of what he can do now. Magneto is already enormously powerful… Now Apocalypse gives him powers far beyond what we've seen before.
---
Deadpool
And now to both Empire and Entertainment Weekly! First up, Empire has a new promo picture of Deadpool on their January cover, alongside a promo for the issue featuring Ryan Reynolds in character:
Meanwhile, Entertainment Weekly has two new pictures from the movie: Deadpool fighting Ajax (Ed Skrein), and Ryan Reynold's abs.
---
iZombie
Kristen Bell will be teaming up with former Veronica Mars creator Rob Thomas on the show, but only for a cameo—Bell will lend her voice in a currently undisclosed role to Episode 11, titled "Fifty Shades of Grey Matter," an episode where Liv easts the brain of a secret erotic fiction novelist. [Entertainment Weekly]
---
Agents of SHIELD
Jed Whedon teases how Daisy's relationship with Ward will have left an impact on the Inhuman creature inhabiting the former SHIELD/Hydra Agent's dead body:
It could be, that's a good theory. We know that Will's memories lived on, so some of that could carry. As I'm sure you have guessed, it's going to get complicated. Spoiler alert, it's going to get complicated.
---
Supergirl
Here's a new promo for the show's midseason return, "Blood Bonds", teasing Kara discovering Hank's true identity and Cat Grant needling Kara about her own secret identity:
---
The Expanse
A gallery of pictures for episode six, "Retrofit", has been released—more at the link. [Spoiler TV]
---
Galavant
Even more promo pictures, this time for "Bewitched, Bothered, and Belittled" and "Giants vs Dwarves"—go here for more from the former, and here for more from the latter.
---
Shadowhunters
Finally, a bevy of videos for the series have been released, introducing the main characters on the show:
---
Additional reporting by Gordon Jackson and Charlie Jane Anders. Image: Star Wars: The Force Awakens.