Last week saw Team Kotaku invade E3 '06, capturing the sites, the sounds, the offensive smells from the show floor. With so much to digest, it might be a little intimidating. This very special edition of High Score will get you up to speed with the week's big announcements.
Nintendo had a strong showing with it's Wii and DS. Check out our liveblogging of the Nintendo press conference for a blow-by-blow description of the event. Nintendo followed through with a strong line up, including games like Super Mario Galaxy, Metroid Prime 3: Corruption, Super Smash Bros. Brawl (with surprise guest Solid Snake), Wario Ware: Smooth Moves and so much more. Nintendo's rumored $249 price point might make your PS3 purchase a little easier to swallow. You can check out all of our Wii coverage here.
Sony also made waves of their own at their highly anticipated press conference. Unfortunately, the excitement petered out somewhat when they announced that you'd have to drop $500 or $600 on the PS3. Still, there were a ton of game announcements and demos, as well as neato controller functionality and PSP emulation updates to help stave off sticker shock. Check our hands-on impressions for more.
G/O Media may get a commission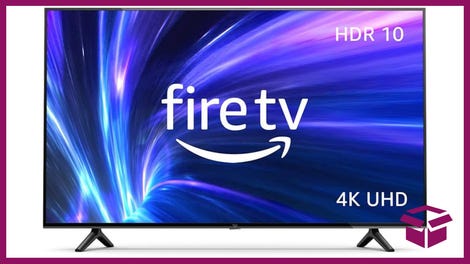 42% Off
Amazon Fire TV 50" 4K Smart TV
The final Big Three player Microsoft held its more understated presser just after Nintendo, dropping the bomb everyone know was coming: Halo 3. A bit more surprising was their "day one" deal with Rockstar to get Grand Theft Auto IV to release alongside the PS3 version — with a handful of Xbox 360 exclusives — and their Live Anywhere technology. You can read our cynical take on the whole thing here.
On the third party front, RPG monolith Square-Enix announced dropped some major Final Fantasy details. After showing off the Final Fantasy XIII trailer for the PS3, they went on to reveal two more FFXIII titles as well as exclusive Wii and DS software.
In addition to showing a new Metal Gear Solid 4 trailer, Konami and Kojima Productions finally gave PSP gamers what they wanted from day one: a true MGS for PSP. Metal Gear Solid: Portable Ops will ship for the PlayStation Portable next year.
For more exclusive coverage of E3, be sure to check out our Kotaku Stalku and Justify Your Game stories, or peruse virtually everything we did from just one post.