Now that the E3 news is settling in, let's get caught up on everything that happened last week at Kotaku.
One thing that's putting me into Console Launch Panic Mode is that EB and Gamestop won't open up pre-orders for the PS3 until the fall. Why? My local EB register girl cites a lack of confidence in Sony's ability to meet demand in November and looking to avoid nerd riots similar to the Xbox 360 launch. She also made an off-hand comment that Wii pre-orders may come earlier.
Speaking of the Wii and PS3, the Nintendo UK boss had some not so nice things to say about Sony as he was pushing them under the figurative bus. We all know that Sony prefers to assimilate, not innovate, Mr. Yarnton. It goes without saying!
Other Nintendo talking heads that let the Kotaku team bend their ear during E3 were gaming god Shigeru Miyamoto and mini-game demi-god Goro Abe of Wario Ware fame. Check out both video interviews for some translated hi-jinks.
G/O Media may get a commission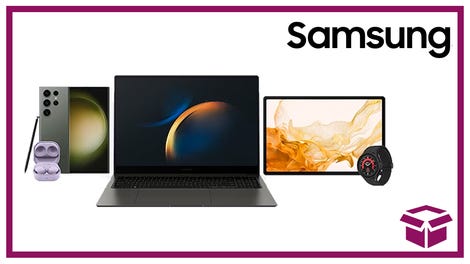 24 hour deals
Discover Samsung - Daily Deal
On the Xbox front, it looks like those big brained hackers have broken the firmware for the Xbox 360, allowing certain versions of the console to potentially illegally copied and modified games. Obviously, Microsoft was not pleased.
Don't miss James Wagner Au's feature on "This Year's Leroy Jenkins" the overly vocal World of Warcraft guild leader that will become internet famous right before your eyes. James snagged a brief interview with the profilee, which makes for an entertaining read.
To get the ultimate wrap-up of random E3 awards and nominations from the editors at Kotaku, we present our E306 Kotaku Awards, with such coveted awards as Emptiest Booth and Worst Movie Tie-In Game That Might Actually Be Good and Most Useful Swag in a Life-Threatening Water Evacuation.
Finally, for a fun diversion to wipe out that "case of the Mondays", check out Kotaku reader Anthony's Post-It Note pixel art project/desperate cry for a girlfriend. Just kidding, Anthony! Love you. For more fun gaming art, check out the Resident Evil Lego block project and Ready Made's profile on ROM hacker artist Cory Arcangel. You're, like, cultured and stuff now.