Here's what all the hubbub's been about at Kotaku for the week of June 18.
A definitely fake Grand Theft Auto 4 screenshot popped up on the Web this week. We questioned it's credibility, then were handed some proof of how easy something like this is to fake. My rule for determining authenticity? I reflect on all the other leaked screenshots of GTA4 to come from Rockstar. All zero of them.
Like Geometry Wars but hate digital distribution? You're in luck! Microsoft's Peter Moore wants to bring your favorite Xbox Live Arcade titles to brick and mortar stores.
Nintendo boss Iwata says it's time for the industry to re-examine how it handles pricing (and pronto!). Citing slash and sell pricing practices and inappropriate dollar to value schemes, Iwata wants to stabilize the biz. I couldn't agree with him more.
G/O Media may get a commission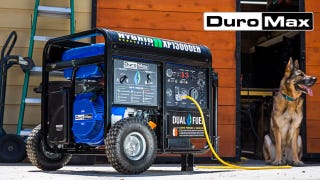 Black Friday Sale
DuroMax Generator Sale
Force feedback tech company Immersion's lawyers are still on the prowl, still scrapping with Sony and firing up the lawsuit machine, ready to take on Nintendo. Lots of posturing and digs at Sony's PlayStation 3 controller decisions follow.
And speaking of Sony's PS3 controller, the lads at PlayStation Magazine just want to show you how the two great tastes of force feedback and motion sensing taste great together.
In equally exciting law news, the UK Court of Appeals passed judgment on Sony's attempt to have the PS2 classified as a "computer" not a games console. Verdict? Sorry, Sony! Fork over that hefty tax check.
Congress tackled the burning issue of violence in video games, clearly our nations number one priority. Fortunately, greying Daily Show anchor Jon Stewart and gifted pool of writing talent took them to task on their total stupidity. Do not miss.
Prey, the long time vaporware FPS, became much more tangible this week, as the game went gold and took on the form of a downloadable demo. Expect the Xbox Live demo any minute now.
Finally, we got into a bit of a pissing match with IGN over some hilarious pranks pulled by the editorial staff. We're still angry about it too. And for the record, we're better pissers.