Driving around L.A. during the last month, you might have noticed a flash of fluorescent yellow and neon pink breaking up the monotony of lawns. It's a project called Wildflowering L.A. which planted 50 lots around Los Angeles in native seeds. This week, the plantings hit peak bloom, transforming swatches of property across the city into vibrant fields of color.
Artist Fritz Haeg envisioned the idea for planting wildflower gardens across the city after learning about a similar effort by naturalist Theodore Payne. As the owner of a local nursery and seed company, Payne was an advocate of planting native species. He launched a foundation and would often speak about his quest to return the too-industrial, over-manufactured L.A. landscape back to its natural state:
When I first came to California (in 1893), what impressed me perhaps more than anything else was the wonderful native flora. But as the years went by it was with deep regret that I saw the wild flowers so rapidly disappearing from the landscape. I made up my mind that I would try to do something to awaken a greater interest in native flora.
Did you catch the date? By the early 1900s, Payne already thought the Los Angeles landscape was on the wrong track.
Working with the Los Angeles Nomadic Division, which commissioned and organized the exhibition, Haeg put out a call last autumn for homeowners (or property owners of any kind) to apply to become stewards of these mini-preserves. 50 sites were selected based on their geographic diversity so the wildflowers could be found throughout the city. The only requirements were that the sites had to be visible from the street or sidewalk so the public could enjoy the spring bloom.
G/O Media may get a commission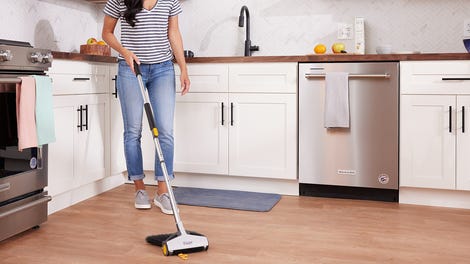 BOGO 50% Off
Flippr - BOGO 50% Off
Before and after
Working with the seed program manager Genevieve Arnold at Theodore Payne Foundation, Haeg formulated four different seed mixes inspired by the 1971 book by architecture critic Reyner Banham, Los Angeles: The Architecture of Four Ecologies. In it, Banham proposed that L.A. was divided into four different "ecologies," each with their own topographic features. Using Banham's regions as a guide, Haeg created four different seed mixes—Coastal, Flatlands, Hillside, and Roadside—assessed each of the 50 sites and prescribed them one of the four custom wildflower blends.
The site owners were then trained by the Theodore Payne Foundation in how to remove their lawns, prepare the soil, and sew the seeds. And to identify the sites, carved wooden signs—akin to the signage you'll see at national parks—were placed at each home, assigning each a number and identifying which mix was planted there.
By late November, the seeds were planted, the sites were marked—this is where the homeowners could sit back as nature completed the project. Except, as you may have heard, Southern California had one of the driest winters on record. The rains never came to germinate the seeds. Homeowners had to step in and water to get the flowers to grow.
Some might see the fact that humans had to interfere as counterintuitive to the "native" project. However, I believe it makes the project's mission even more vital. The amount of water needed to help wildflower seeds germinate is a drop in the bucket compared to what Angelenos dump on their grass to keep it alive in a dry winter. The takeaway for Wildflowering L.A. became not only an aesthetic one but an educational one as well.
Haeg has launched somewhat of a cottage industry encouraging Angelenos to tear out their lawns in inventive and aesthetically pleasing ways. He is well-known for his Edible Estates project, which converted front yards into urban farms. With Wildflowering L.A., both homeowners and neighbors benefit from an environmental improvement, but it's also about education.
Plus, the act of marking and naming each site makes it feel like it's a tiny protected forest in the city, but learning that there's a network of them makes people want to get out and explore. People are embarking upon tours to see different sites, documenting them as faithfully as they might photograph one of those national parks—check out #wildfloweringla on Instagram.
Posters include portraits of wildflowers at each site and maps, designed by Roman Jaster
As the summer heat scorches the Southern California landscape, the flowers will turn brown and brittle, dropping their seeds on the land below. If all goes well—perhaps with another human nudge—the flowers will be back for next spring's exhibition. But the project has already grown in other ways. At an event last weekend where cuttings from each site were placed on a freeway map of the city, the project passed out seed mixes and information about starting a wildflower garden. There are even some "renegade" sites where people have planted their own seeds and even created their own signage.
In my imagination, I can envision each site enlarging season after season, slowly creeping into the neighbor's yard, across the cul-de-sac, down the street, consuming the lawns on an entire block. With a little help from humans, the native species eventually reclaim the landscape, just like Theodore Payne believed was possible a century ago.
All photos courtesy Wildflowering LA, commissioned and organized by LAND (Los Angeles Nomadic Division)