Not long ago, The CW seemed like the home of Gossip Girl and 90210, with one night of fantasy fare like Supernatural or Vampire Diaries. But this week, the network is airing finales of five genre shows. Season finales, not series. And next season, The CW adds four more SF/fantasy shows. And most of these shows are actually good.
Seriously, what happened?
This fall, Fox will have a couple genre shows: Almost Human and Sleepy Hollow. NBC will have the returning Revolution and Grimm, plus Dracula, with Believe coming in the spring. CBS has the returning Person of Interest, with Intelligence coming in the spring. ABC has four shows, including Agents of S.H.I.E.L.D. and two Once Upon a Times. So no major broadcast network is betting on genre fare as heavily as The CW, at this point.
The CW grew out of The WB and UPN, both of which always had some decent to great genre fare, from Roswell to Buffy to Smallville. It feels like both channels always had a few shows in which glamorous young people had too much power, and not enough shirts to go around. But even a year ago, The CW still had just one or two hit genre shows (like The Vampire Diaries, or Smallville before that) and would try programming various things next to them. There was usually one fantasy night per week, plus maybe a straggler or two on Fridays.
G/O Media may get a commission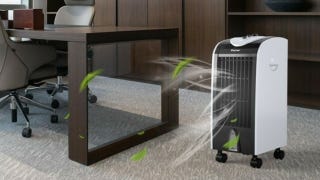 Save $10
Evaporative Portable Air Conditioner Cooler with Filter Knob
But now, Arrow seems to have given the channel a new burst of energy, pulling Supernatural back up with it. Wednesday nights are actually kind of fun lately. Vampire Diaries is still some of the best crack around, and doing well enough to justify a spin-off — plus it saved Beauty and the Beast. And I keep hearing that the spy-fi show Nikita is still excellent. These shows seem to be getting way more buzz than non-genre fare like Hart of Dixie or Carrie Diaries.
And meanwhile, The CW's 2013-2014 shows all sound at least interesting. The Tomorrow People is one of those classic British TV concepts that nobody holds too dear to mess with, and it actually lends itself quite well to The CW's "youth soap opera" brand. We're pretty excited for the post-apocalyptic "kids return to Earth" show The Hundred with its potential for BSG-meets-TVD antics. And Star-Crossed, with the romance between a human girl and an alien boy, could be terrible — but it might be seriously fun, too. We're still not crazy about the idea of a Vampire Diaries spin-off, but it's entirely likely The Originals will surprise us with a fully fleshed out supernatural New Orleans that becomes as fascinating as Mystic Falls often is.
In any case, none of these shows seem obviously destined to be terrible or incapable of attaining greatness. And you have to admire The CW's shrewd judgment in killing its TV show based on the young-adult "Hunger Games meets The Bachelor" novel The Selection, for the second year in a row. Also, big props to The CW for sending the Wonder Woman TV show Amazon (the one with the "eating ice cream and making orgasmic noises" scene) back to the drawing board. The CW dodged a couple bullets there.
This time around, there's nothing on the docket as obviously doomed as Cult. And even Cult, as painful as it was, proves that The CW is willing to take chances on weird, challenging material that other networks wouldn't touch.
So what is going on here? A few ideas suggest themselves.
First of all, there's the boom in young-adult fiction, which has just started to conquer the movies — and that's basically The CW's brand right there. Angsty stories about beautiful young people struggling in a world they never made are huge right now, and other networks seem to have a hard time making those sorts of stories come to life on the small screen. Witness Revolution, which was clearly supposed to be a young-adult show at first, until nobody liked Charlie and Danny, and then the focus shifted to the older generation.
Then there's the superhero boom, which is still going strong at the movies but hasn't really translated to television that well. Hopefully, Agents of S.H.I.E.L.D. will be a huge phenomenon on ABC — but right now, Arrow is pretty much the only watchable superhero show of recent years, and Supernatural has seemed to rediscover some of its own superheroic roots in response.
But also, the root cause of young-adult fiction's popularity is probably also helping The CW to establish these genre shows — younger people feel alienated and misunderstood. The world really is run by secretive overlords, and we really are being lied to constantly. And technology really is reshaping our reality, in ways that most of us only dimly understand.
There's also the fact that The CW is a niche network. A hit show on The CW generally gets ratings that would spell doom on any other network — and part of this is no doubt due to the fact that The CW has fewer affiliates in fewer markets. But The CW is a niche channel, serving a smaller population both geographically and demographically, and it can afford to put on shows that would be money-losers for Fox.
And finally, you can't discount the fact that Syfy has failed to own the "soap opera with speculative fiction" space. Syfy really wanted to get into the soap opera business, notably with Caprica and Being Human, and has had mixed success at best. Syfy also pulled the plug on Alphas, which had some of the same feel as The CW's big superpowered action dramas. The CW has been creating a brand based around youth, romance, adventure and the paranormal — which is more or less the sort of brand that Syfy was trying to build not too long ago.