Back in 1991 I did a series of illustrations for a set of US commemorative postage stamps, one for each planet and the Moon. There was a spacecraft associated with each world . . . except Pluto. And there was something about that stamp that rankled a lot of scientists.
In 1993 JPL engineer Robert Staehl explained what the problem was in a paper titled, "To Pluto from a First-Class Postage Stamp." "During 1991," he wrote, "with Voyager 2's Neptune encounter two years behind us, the U.S. Postal Service issued ten stamps commemorating the success of planetary exploration. On a stamp for each of the first eight planets and the Moon appeared an illustration of the celestial body with one of the spacecraft which visited it. The stamp for Pluto simply announced, NOT YET EXPLORED, as if to taunt engineers and scientists at Pasadena's Jet Propulsion Laboratory (JPL) , where the stamp were unveiled in a first-day-of-issue ceremony on October 1 . . ."
On that same day Staehl stopped by the office of his friend Stacy Weinstein, of JPL's Advanced Projects Group, with the Pluto stamp. Staehl "jokingly asked what we were doing about this travesty of 'Pluto - Not Yet Explored.'"
That was when "the mission was born," Staehl concluded. A team of scientists and engineers at JPL, led by Staehl, was the first to seriously propose a mission to the distant world. This became the Pluto Fast Flyby mission which eventually evolved into the ambitious Pluto-Kuiper Express.
G/O Media may get a commission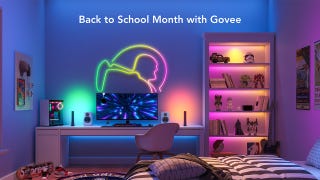 Back to School
Back to School Month with Govee Sale
Staehl sent me a very nice gift with the signatures of his team surrounding one of the first-day covers.
While these JPL plans ultimately never got off the drawing board, the impetus they began eventually morphed in the New Horizons probe, which was launched in 2006.
As a kind of thank-you for the original inspiration, Alan Stern—-New Horizon's principal investigator—-attached one of the stamps to the spacecraft, next to the ashes of Clyde Tombaugh, the discoverer of Pluto. My wife and I were also invited to the launch. All this was very cool indeed!
It's very, very humbling to think that a sample of my artwork is 2,400,000,000 miles from the earth and in a few years will be swinging past Pluto.
My only fear is that the stamp probably wasn't canceled . . . if it wasn't, the spacecraft is going to wind up right back here in 15 years. In that case, I want the stamp for my collection.
Now that New Horizons is soon to reach its goal, a campaign has begun to petition the US Postal Service to issue a special commemorative in honor of the event.
Where is the Pluto stamp today?
Illustration by Ron Miller