By the time ITT Technical Institute (ITT) closed its doors earlier this month, the for-profit college had been selling tenuous diplomas at exorbitant prices for more than 20 years. The company had been taking millions in federal grant money, burying low-income and first-generation students in insurmountable debt, and evading regulators since the early 1990s—all while its CEO and other executives personally profited from the fraud.
ITT finally shut down all campuses following a federal crackdown led by the Department of Education, which found the school was earning most of its revenue from taxpayer dollars. An estimated 70 percent of the school's revenue came from federal financial aid funds in 2015. As soon as the DOE blocked ITT's access to federal aid, the school stopped enrolling students. ITT then quietly discontinued operations at many campuses ahead of Labor Day weekend and announced the decision publicly the following Tuesday. A week later, ITT filed for bankruptcy.
In interviews with Gizmodo, dozens of former students and faculty have come forward to tell their stories about the school's predatory recruiting and lending practices, and the inner workings of a pervasive scam that affected tens of thousands of students across 136 campuses in 38 states.

"They sought out people who thought that this was their only option," a former Charlotte campus faculty member says. "[The students] were really trying to make a difference in their lives and trying to make a difference in their families lives," she says, adding that the campus reps saw them as "cash cows."
By the time most students realized how bad ITT was, it was too late. "The credits that they earned couldn't be transferred anywhere," she explains. "They were stuck. They needed to graduate. It worked out for some people, and they were able to move on. But they were some of the few." (According to a 2012 Senate investigation of ITT, about 52 percent of students who enrolled in 2008 dropped out by 2010.) "I know a con when I see one."
As a "for-profit" college, ITT operated as a business. The company had a product (bachelor's degrees), customers (students), shareholders, and quarterly revenue goals. The school was even publicly traded under the stock ticker ESI from 1994 until September 2016, when it was delisted after ceasing all operations. By that time, the damage was done. ITT had drowned thousands of students in debt.
ITT charged an estimated $77,000 for a bachelor's degree and $45,000 for an associates degree, according to a Deutsche Bank analyst. ITT's own internal documents show bachelor's degrees were sold for as much as $90,000. The Senate investigation reported ITT had "the most expensive programs of any for-profit college, forcing many students to borrow the maximum available Federal aid and to take on additional private debt."
It was a very simple business. The more degrees the school sold, the more money it made for shareholders. When student enrollment fell in 2011, both revenue and profit fell too. High enrollment rates were great for investors, but paralyzing for the 1 in 3 students that ITT projected to default on their loans.
Mario Valladares is one of those students. He attended ITT's Seattle campus between 2008 and 2012. Like many former students, Valladares will now spend the rest of his life paying back loans for a degree that is practically useless.
"ITT was one of the few colleges offering the program I was interested in [called] digital entertainment and game design," he says. "At the time, I didn't really know how to get into the game industry. When I visited the campus, everything sounded perfect. They told me I was accepted in the program [on the spot], so I didn't do much college searching after that."

Valladares took out $65,000 in federal and $7,000 in private loans to pay tuition. Four years later, he now owes more than $200,000 on his loans due to compounding interest. When he first applied, he was told by ITT recruiters he'd graduate with a bachelor's degree and find a good job. Instead, he found himself buried in debt and, like all of the former students interviewed by Gizmodo, he was placed in a job that did not require professional training and had little do with his field of study.
"I didn't learn nearly enough to get a real job at a video game company," Valladares says. "I was placed in a game tester, not game design job. You don't even need a high school diploma to be a game tester. It was a huge ripoff."
"I wound up getting placed in a telemarketing job for $5.95 an hour," a former student named Veronica, who studied electrical engineering at the Tampa campus from 1988 to 1990, says. "They thought they were doing me a favor. It was totally worthless."
"I was placed in a job at Comcast as a communication technician," says Zach Prater, who was enrolled at the South Bend, Indiana campus from 2008 to 2010. "Not only is this job alternately known as a 'cable guy,' it's a job that I could have gotten without the help of ITT because the job description states a high school diploma or GED is required. It says nothing about a degree."
ITT was good at hiding its crummy job placement from prospective students. A 2012 Senate investigation found ITT's internal documents loosely defined graduates working in a related field as people who spent "20-49 percent of time spent on the job using the skills taught in the core courses."
The internal documents also described retail jobs at electronics stores as working in a related field because "Blockbuster, GameStop, and other video game store employments are not black and white and require a significant amount of analysis, thought, and documentation." The Senate investigation challenged this loose logic, questioning "whether students would knowingly take on obligations of $50,000 to $100,000 in student debt to be employed in a retail job."
Students who applied to jobs on their own often found the experience humiliating. "I went on interviews with employers, and they really wouldn't take you seriously," Veronica says. "It was hilarious. You could see the smile on their faces. It was comical to them."

Jonathan, a former electrical engineering student at the Louisville campus (2012-2015) who recently lost his job, says interviews have not been going well. When he mentioned his ITT degree to his most recent interviewer, "he just looked at me as if it wasn't a real degree." Jonathan expects to be paying his student loans back "for as long as [he lives]" or "until he hits the lottery."
While poor job placement and questionable degrees continuously kept students from paying back their huge loans, ITT recruiters were encouraged to obfuscate the true cost of its degrees. The Senate investigation found "ITT recruiters were trained to mislead prospective students about the cost of attending the school." The students we spoke to said they felt lied to about the actual cost of the college's programs.
Until July 2011, recruiters were compensated based on how many students they could enroll and incentivized to enroll as many students as possible. Recruiters were instructed to make 140 calls a day or 100 calls if they had an appointment.

"When I was first interested in the program, I was never told directly how much it would cost at the beginning," says Arturo Alcorta, an ITT Tech student who completed his bachelor's degree in August. "They never told me it was going to cost $5,000 a quarter. Figures and amounts were never given. I signed thinking [the price] was closer to a community college. After a couple of quarters, I realized how much it would cost."
Alcorta, like many students, paid more than triple the cost of a typical community college. While ITT charged $77,000 for its bachelor's degrees, respected community college networks such as City University of New York (CUNY) were charging about $25,000 for a four-year degree. Community college degrees and vocational schools also have the added benefit of actually being valued by professional organizations. ITT recruiters were trained to lure potential community college students by asking questions like, "Do you want a discount education, or a valuable one that will give you a return in the future?"
"From the corporate standpoint, they just saw dollar signs when students walked through the door," says the former Charlotte campus faculty member. As she describes it, ITT's "admissions representatives" functioned more as sales representatives. "They had a number to hit. They were given awards like 'Best Rep of the Month,'" she says. The 2012 Senate investigation corroborates the use of awards as incentives for recruiters.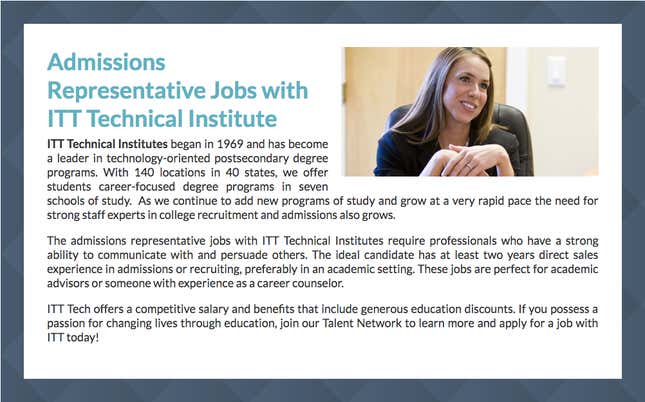 A recently deleted job ad for an ITT "admissions representative" appears to corroborate the faculty member's description of the job. The ad identifies the perfect candidate as someone with a "strong ability to persuade others" and as someone with "at least two years direct sales experience." In contrast, "admissions counselors" and "admissions officers" job ads at nonprofit universities and colleges do not include this kind of predatory language. (They tend to focus on mentorship and communication skills.)
ITT recruiters even manipulated prospective students using pain-based sales techniques. Recruiters used a sales strategy called the "Pain Funnel" that encouraged them to ask progressively more hurtful questions to get prospective students to enroll in the school.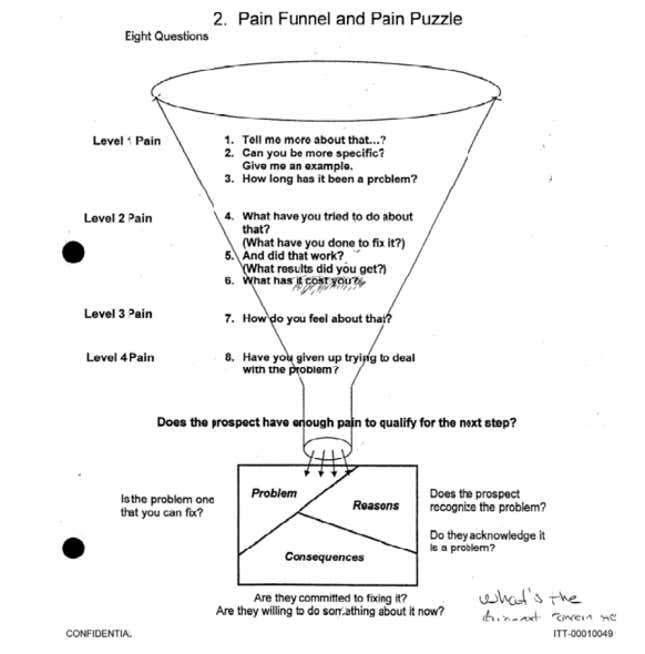 Recruiters were also encouraged to focus on prospective students eligible for military benefits, to maximize the amount of federal aid the college could receive. Between 2009 and 2011, ITT was the second-highest recipient of post-9/11 GI Bill funding, collecting $178 million from a program created to provide educational assistance to military service-members and veterans.
In addition to internal documents that called for more aggressive recruitment from the military, executives also frequently talked about it among themselves. "We didn't even make the top 40 providers to the military!" said CEO Kevin Modany in an internal email from 2010. "What an opportunity that we have in front of us! We need to see how we can penetrate this world with ITT Tech and [Daniel Webster College]!!"
ITT's predatory recruiting practices help explain why enrollment skyrocketed more than 200 percent between 2000 and 2010. Enrollment was particularly high during the recession, when Americans were eager to seek new skills and find better jobs. In 2010, the school had more than 88,000 enrolled students (compared to just 53,000 in 2007). Enrollments had a direct correlation with the amount of money ITT executives made in salary and bonuses every year.
The Senate investigation also found ITT spent a large majority of its revenue on profit and marketing, rather than investing it into the curriculum, which was a red flag for federal investigators. In 2009, ITT spent $2,839 per student on instruction, compared to $3,156 per student on marketing, and $6,127 per student on profit. The company's 37 percent profit margin was the highest of any for-profit college investigated by the feds. In short: ITT executives made it a point to funnel money from tuition revenue into their private accounts.
ITT's outsized marketing budget should be no surprise to anyone who grew up with the school's TV commercials from the 1990s and early 2000s. Former creative director of the ad agency on the account, Paul Friederichsen, recently published an article saying the ad agency's "mantra was simply to 'Get Asses in Classes.'"
ITT's commercials have become a formula followed by other schools that advertise on television, according to Friederichsen. They appealed to people who were watching television at odd hours and were unhappy with their lives.

"We were the first two to have a degree out of an entire family," says one of two hispanic brothers in a commercial from 2008, in which they drive a good car to a nice beach. The brothers compliment each other and their family holds hands, wading through the waves. Then comes the call-to-action. "We are educators helping people build a foundation for the rest of their lives," the narrator says. "Call 1-800-372-4052."
While most of ITT's revenue was allocated to marketing and profits, its ever-expanding campuses were left to wither.
"We had resources that were well over 10 years old," says the Charlotte faculty member. "As weeks went by, I slowly realized how odd of a culture ITT truly was. While most of the databases and articles included in the pre-assigned class syllabuses were outdated, some did not even work at all because the subscription payment lapsed."
"I saw syllabuses that were four years old," she adds. "This was supposed to be a technical school. I thought that was a huge oversight."
Valladares and other students say the technology taught at ITT was 5-10 years outdated, and that many of the teachers were students only a few semesters ahead of the others. "My campus had classes that they literally did not have qualified instructors for. They would just grab random office workers to teach the classes," Charlie Powell, a student at the Columbus campus between 2004 and 2006, says. "On more than one occasion, I had instructors who admitted they knew nothing about the class topic."
"It was a YouTube education," Valladares says. "In a lot of our classes, especially toward the end, we would go to YouTube and watch tutorials. I was paying a lot of money for this school. I could have just done that from home."
"There was a book with the curriculum in it. Some instructors provided no assistance whatsoever," Powell says. "If you asked them anything technical, they'd look it up or give you the page number. I would occasionally help the other students with the more hands-on stuff."
Even if a teacher was inspired to create an interesting curriculum for the students, there was very little room to make a difference.
"Someone from corporate would create the syllabus, and it was passed down to the teachers," says the Charlotte faculty member. She explained that there was a corporate representative for each field of study (such as the school of business or school of design) in charge of creating the syllabuses for all campuses. "Usually it's the instructors who create the syllabuses and find resources—but not at ITT."
Meanwhile, for more than a decade, ITT's executives masterfully dodged federal regulators. The company seemed to use every trick in the book (and even made up its own) when the feds aggressively pursued the company for misconduct. For example, when student loan defaults became an issue at dozens of campuses in 2011, ITT consolidated them into two unanalyzable entities to avoid regulation. When the feds started to measure graduates' earnings to see if they were making enough to pay back loans, the company reformatted its curriculum to interfere. ITT also partnered with a Wall Street investment bank to set up a private lending program called PEAKS, which, through a complex series of transactions, helped the company bend the law to legally meet the definition of a "private" loan.
In 2004, the FBI raided company offices in eight states looking for evidence of fraud relating to attendance, placement, and recruitment. Shortly after, then-CEO Omer Waddles resigned and the company was hit with several class action lawsuits. But ITT stayed in business and was not charged with any wrongdoing. Federal investigations never discouraged ITT's executives. Between 2000 and 2010, ITT expanded aggressively, adding 8 to 10 new campuses per year.
In 2010, ITT consolidated 26 campuses tracked by federal regulators into one entity to obfuscate financial information. The same year, the school created an off-balance-sheet trust to increase the amount of private loans it could make available to students. Through a complex series of transactions, ITT moved money around to skirt the "90-10 Rule," a federal law that prevented for-profit colleges from receiving more than 90 percent of revenues from federal taxpayers.
In 2012, when the Senate launched an investigation into 30 for-profit colleges, it used ITT as an example of misconduct. The report found "all for-profit education companies derive the majority of revenues from Federal financial aid programs." It also found that by 2010, $32.2 billion of Title IV Federal financial aid funds were taken by for-profit schools. When federal regulators clamped down on the company, ITT CEO Kevin Modany responded by scolding them publicly.
"The proposal would have a negative impact on minorities, low income individuals, and nontraditional students," Kevin Modany said during an interview on Bloomberg TV in 2012. He was asked to clarify why, according to the Education Department, the for-profit college sector had the highest default rate in 2008 at 11.6 percent. (ITT's student loan default was actually more than double, at 26.3 percent in 2008 and projected at 34 percent in 2009, according to a Senate inquiry.)
Modany responded that according to a recent US Government Accountability Office study, student loan default is "not correlated to the type of institution, but more so correlated to the demographic of the student." He said that following the federal regulations of ITT, other "institutions would be encouraged... to resist enrolling those individuals." That was another blatant misrepresentation of the facts. The study he referred to actually showed data for both correlations, and added several unfavorable facts such as that "for-profit schools had higher default rates than 4-year public schools."
By 2013, things really started to unravel for ITT Tech. The company was almost delisted from the New York Stock Exchange for failing to report financial information on time. The company's largest institutional investor, Blum Capital Partners, then divested its shares (about 10 percent of the company).

Even as investors fled, ITT Tech continued doing business. In 2014, the SEC accused CEO Kevin Modany and CFO Daniel Fitzpatrick of fraud, saying they "made various false and misleading statements and omissions to defraud ITT's investors" and "engaged in a series of deceptive acts to hide the poor performance of the student loan programs and their financial impact on ITT."
Modany then announced he would resign in 2015. But there was a huge catch. ITT's board of directors elected to keep him in charge "on an at-will basis," the same exact basis on which he was running the company before he announced his decision to leave, according to the Huffington Post. Modany's new arrangement allowed him to leave with two more years of salary if he quit or was fired. He earned $1.4 million in salary, bonuses, stock, and options in 2015; $3.2 million in 2014; $8.8 million in 2012; $6.4 million in 2011; $6.7 million in 2010; and $7.6 million in 2009.
"If could go back in time, I'd stop myself from going to that school," Valladares says. "For the amount of money, it was just not worth it. There were so many promises that were not fulfilled."
"I would have avoided them like the plague," Veronica says. "By the time I figured out [the cost of my loans], I was in the fourth quarter. By then, you're in for a penny, in for a pound."
The 40,000 students—29,000 of which are indebted—left without a school to attend have tough decisions to make about their future. The Department of Education recommends that ITT students visit NextStepsEdu.org, a website created for students displaced by recently closed for-profit colleges including ITT. The DOE also created its own ITT announcements page for more information that includes online resources and webinars for thousands of confused students. But these websites only go so far.
Students who left the school within the last 120 days might be eligible for loan forgiveness. In this scenario, federal loan debt would be wiped away and students would have an opportunity to start their education somewhere new. But ITT credits would not be transferred, and students would lose the time they spent working toward an ITT degree.

Students in limbo may also be able to transfer their credits, in which case they wouldn't qualify for loan forgiveness. About two dozen Senate Democrats are urging the DOE to make sure students are not lured into other for-profit colleges facing state and federal investigations and lawsuits after leaving ITT.
There is good news here. At least one school that preyed on low income students while churning a massive profit has been shut down. The bad news is that it's still incredible hard to navigate the US educational system—especially when you're one of the first people in your family to enter it.
There are plenty of other schools out there that want "your ass in a class" and don't seem to care what happens next—as long as you're paying.