You're a goldsmith, and a couple of guys approach you asking you to make a special gift for a friend. It's a Greek-themed tiara, and they want a specific inscription. Well, what's the worst that could happen?
In the late 1800s, Israel Rouchomovsky was making a decent living as a goldsmith in Odessa. He wasn't too big to turn down a commission, though, and so when two men asked him to make a dome-like crown out of gold, he was happy to oblige. The more talkative of the two, Schapschelle Hochmann, explained that the crown was for an archaeologist friend of theirs. He was a finicky man, and so Rouchomovsky was to put a certain inscription on the crown, and was to base his design, as much as possible, on art from two recently-excavated sites. Rouchomovsky did, handed over the final product, and didn't think any more about it.
Nearly a decade later, Rouchomovsky got a message from a friend and associate named Lifschitz. It seemed his crown, which he had shown Lifschitz in passing one day, had been on a great adventure. Hochmann had slightly antiqued the work, damaging nonessential areas, and shown it to museums in Vienna. They weren't interested. He'd shown it to museums in Britain. Again, no luck. At last, he'd shown it to the Louvre, where he claimed it had been found by peasants, and was a present from a Greek colony to the Saitaphernes, the king of Scythia (a kingdom that stretched from eastern Europe to western Russia). The tiara was, Hochmann claimed, made in the 3rd century BC. The Louvre paid him 200,000 francs, and put it on display.
Other archaeologists were not pleased with the tiara; its perfect condition alone rendered it suspect. The style seemed off, according to some experts. Those experts weren't French, though, so their suspicions were dismissed as jealousy. Over time, the detractors gained volume, and their voices reached Lifschitz, who remembered the odd commission given to his friend. Rouchomovsky came to Paris, reproductions in hand.
G/O Media may get a commission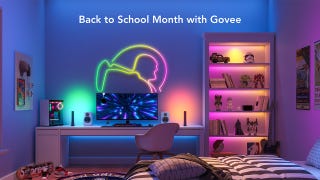 Back to School
Back to School Month with Govee Sale
What was bad publicity for the Louvre was great publicity for Rouchomovsky. He went on to be so celebrated a jeweler that a little over 90 years later the Louvre lent the Tiara of Saitapharnes to the Israel Museum, where it was put on display as the early work of the famous and talented Rouchomovsky.
Top Image: Pipiten.
[Sources: Phony Tiara Fooled Louvre, Saitaphernes Golden Tiara.]