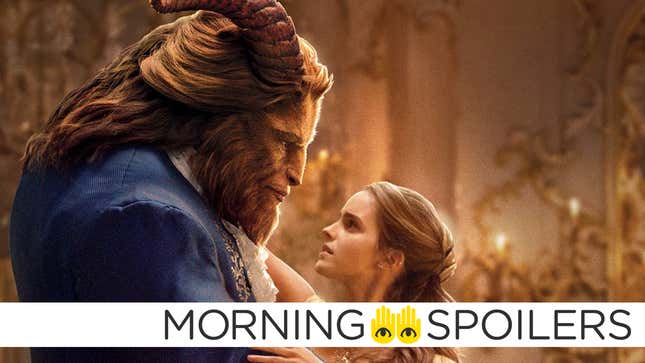 The new Predator movie has an unlikely setting. The Black Hole remake isn't happening anytime soon. Get a look at Dolph Lundgren's Arrow villain. Plus, new footage from Passengers and Moana, A Wrinkle In Time casts another antagonist, and new images from Supergirl. Behold, Spoilers!

Beauty & The Beast
Belle has a new origin story, according to Emma Watson—she is now an inventor, instead of her father Maurice. Specifically, she's the inventor of a prototype washing machine, apparently:
In the animated movie, it's her father who is the inventor, and we actually co-opted that for Belle. I was like, 'Well, there was never very much information or detail at the beginning of the story as to why Belle didn't fit in, other than she liked books. Also what is she doing with her time?' So, we created a backstory for her, which was that she had invented a kind of washing machine, so that, instead of doing laundry, she could sit and use that time to read instead. So, yeah, we made Belle an inventor.
[EW]
---
The Predator
Olivia Munn is in talks to join the cast as a scientist. However, most interesting is a new tidbit that the film will primarily be set in suburbia, rather than an alien world or jungle as you might expect for Predators. [THR]
---
A Wrinkle in Time
Michael Pena has been cast as Red—presumably, the antagonistic Man with the Red Eyes from the book. [Coming Soon]
---
Avengelyne
Akiva Goldsman is writing a movie based on the obscure Rob Liefeld comic book character, with an elevator pitch of "John Wick with a fallen angel," according to Deadline.
---
Blade Runner 2049
Composer Jóhann Jóhannsson spoke with LRM about the difficulties of scoring the film:
It's very early on with Blade Runner. They're still filming. I'm sending them stuff, and we're still looking for the sound. It's a slow process. It's very early to talk, really, in any specific terms about Blade Runner, but obviously, it's a sequel to a very iconic, celebrated film that is very well loved. It's a film that's one of my favorites, to be honest. It's one of my all-time favorite films, so it's a huge challenge to take on. It feels like a responsibility in many ways, like a big responsibility to take on a project like this.

It has to be music that exists in the world of Blade Runner, but it's Blade Runner thirty years later. It's not a remake, it's a sequel, so a lot of time has passed and things have changed. I think that will be reflected in all elements of the score and the film. Obviously, Vangelis' music played a huge part in creating that world, and Vangelis' score to Blade Runner is one of my all-time favorites. It was a huge part of why that film is so strong, so yes, it's something that I'm very aware of, but as I said, this is a sequel, not a remake, so we're doing something that exists in the world but is new as well.
---
The Black Hole
The remake of the '70s scifi film is shelved for the moment, according to screenwriter Jon Spaihts:
Black Hole was an amazing experience. That was one of those movies I was stuck on until I cracked the beginning, and suddenly it just started to flow. I loved that script. It sits uneasily in Disney's world as a dark epic, and Disney is in a very colorful place. They already have multiple big space epics going, so I don't know how or whether it'll find its way to light of day, but I sure wrote a heck of a movie and was thrilled to do it. It was very faithful to the original but clever in all the ways in that first film was silly, I hope.
[/Film]
---
Passengers
There's a tony bit of new footage in this brief TV spot from the movie.
---
Moana
The diminutive Kakamora attack Moana and Maui's raft in another new clip from the film.


---
Sleepy Hollow
The next season of the show premieres January 6, 2017. [TV Guide]
---
Gotham
Falcone turns to Jim Gordon for help in a new synopsis for "Time Bomb."
On the eve of their rehearsal dinner, a threat to Mario (guest star James Carpinello) and Lee (Morena Baccarin) is exposed, and Falcone (guest star John Doman) looks to Jim for help. Meanwhile, Nygma seeks revenge and Bruce learns more about The Court of Owls.
---
Lucifer
Lucifer solves crime and battles landlord issues (as you do) in a new synopsis for "Homewrecker."
Following the murder of the owner of the building in which Lux is located, Lucifer and Chloe search for the killer, while Lucifer also deals with the fact that the new owner wants to evict him and demolish the place. Lucifer goes to great lengths to protect his home, and is entirely shocked when Chloe is supportive of him. Meanwhile, Maze and Amenadiel follow Charlotte around, as she comes up with a plan to upset Lucifer enough to want to leave earth and go back to Heaven.
---
Doctor Who
A new image from next month's Christmas special has been released. Head to the link to see a few more publicity stills of Peter Capaldi's latest variant on his 12th Doctor costume. [Combom]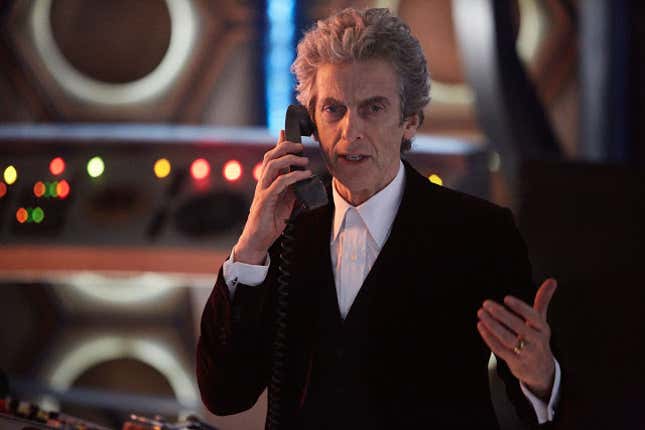 ---
Arrow
New images from next week's episode have been released, giving us our first look at Dolph Lundgren's character, the Bratva boss who menaces Ollie in the show's current flashback storyline. More at the link. [EW]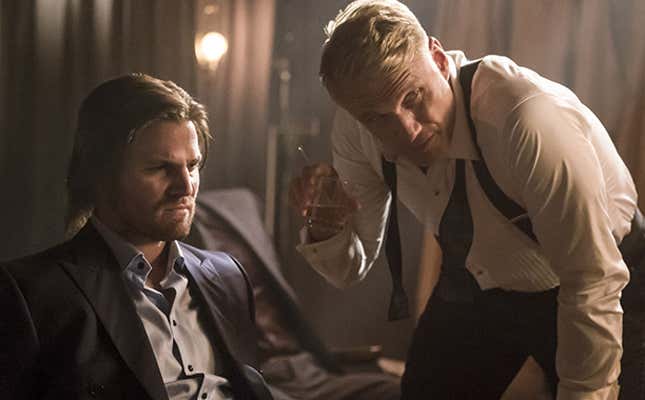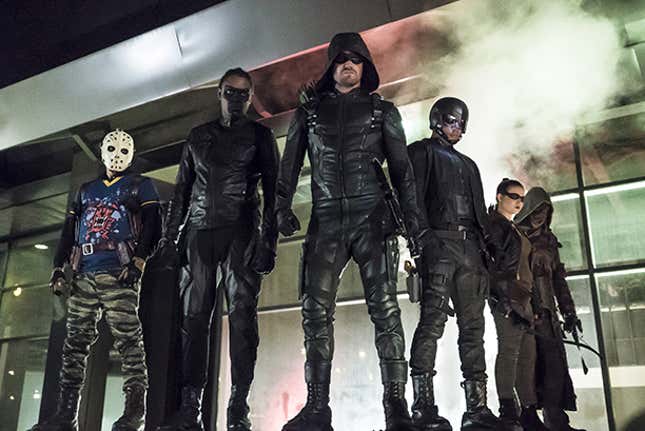 ---
Supergirl
Finally, James and Kara are threatened by a tech-enhanced gang of criminals in new images from next week's episode, "Crossfire." You know the drill, there's more at the link. [Comicbook.com]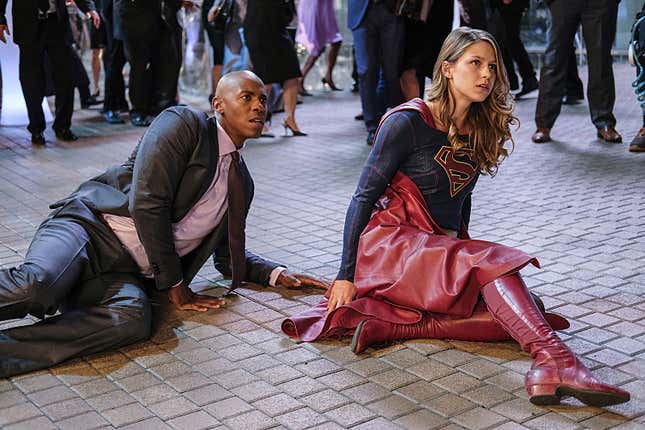 ---
Additional reporting by Gordon Jackson. Banner art by Jim Cooke.