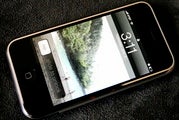 What's everyone doing, gear-wise this weekend? Me, I'm fiddling around with the iPhone since I need to be writing my iPhone book all weekend. Maybe some Shadowrun on Xbox 360 thrown in, but mostly an entire weekend of work, work, work. How about you? Get any cool toys in the past week?
Don't know how to comment? Here's how:
1) Click on the "Register" link on the top right of the page. Fill out the form by choosing a username, password and email for your eventual comment account.
2) Choose a post, click on it, and scroll to the bottom.
3) Fill in the comment.
4) Refresh the page to see if your comment shows up. If it hasn't within a day or two, try again with a better comment.