Now that iOS 8 is finally here, many an iPhone user has eagerly swiped over to the update screen only to find that the greedy install package just won't fit. But don't worry—you don't have to go on a deleting rampage. All it takes is a few simple workarounds, and you can have your iOS 8 and keep your data, too.
The Easy Way
Since it's the install package itself that gobbles up so much space, the easiest way to get around the issues is to plug your phone or tablet into your computer and update straight from iTunes. That way, your phone won't get stuck with having to bear the update's weight and you should have more than enough room for the measly 1.1 GB of iOS 8 itself. Simple!
The Easy But Scary Way
Of course, the above would work in an ideal world, but in reality, Apple's servers have been flooded. And since people have been reporting problems updating straight form iTunes, your iPhone might have to end up shouldering the brunt of the install package. Besides, you might not be near your computer, and an OTA update is faster than waiting until you are. But fear not, there's a way around that little problem, too.
G/O Media may get a commission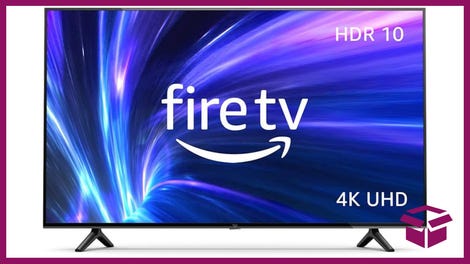 42% Off
Amazon Fire TV 50" 4K Smart TV
1) Backup to iTunes.
With you phone plugged into your computer, open iTunes to the device screen. Make sure you have This Computer selected and hit Back Up Now.
2) Backup to iCloud.
In your phone, go to Settings > iCloud > Backup, and hit Back Up Now.
3) Reset your phone to factory settings.
In your phone, go to Settings > General > Reset, and then hit Erase All Content and Settings. It's scary—I know, but we're going to get through this. Once your phone has fully erased, choose to Set Up as New iPhone.
4) Update to iOS 8.
5) Restore from your most recent backup.
Then, just like last time, go to Settings > General > Reset, and hit Erase All Content and Settings. Except now when your phone restarts, you're going to select Restore from iCloud Backup.
Once that's finished, you'll be all iOS 8-ed up without ever losing a thing.
The Slightly Less Easy But Safer Way
If the thought of totally wiping your phone sends shivers down your spine, there are ways to clear up necessary space. If you go to Settings > General > Usage > Manage Storage > Photos & Camera, you'll be able to see just how much space all your precious photos are taking up (and it's probably quite a bit).
And even though it's turned on by default, you probably don't need Photo Stream. It's meant to back up photos across all your devices, but if you're just taking photos with your iPhone, all it's really doing is keeping an extra copy of every photo you take.
So to free up that extra few gigs, go to Settings > Photos & Camera > My Photo Stream, and turn Photo Stream off and hit Delete when it asks if you're sure (you are).
If you're still a bit short on space after getting rid of your second photo set, head over to Settings > General > Usage > Storage > Manage Storage, and you'll get a nice little overview of every bit of data your iPhone is packing.
Go through and delete any major, space-hogging apps (you can reinstall them after you've installed iOS 8), and keep going until you've freed up the necessary 4.6 GB to finally install that pain-in-the-ass of an iOS update.
And last but certainly not least, relish in the fact that we have an entire year to bask in before we have to do the whole thing all over again. [H/t @BritishGaming]