Everyone knows the four houses of Hogwarts: Braves, Snakes, Smarts, and Puffs. What? That's not what you call them? The Harry Potter satire Puffs, or: Seven Increasingly Eventful Years at a Certain School of Magic and Magic does and it's funnier than anything you'd find in the Weasley's joke shop. The off-Broadway comedy focuses on that underserved demographic of the world of wizards, and the cast and creators have some emotionally resonant things to say about it.
I've seen Puffs twice now, my second time as a guest of the show, and I'd 100 percent see it again. The play does an absolute bang-up job of capturing the famous wizard school from the perspective of the not-so-famous house with earnest performances by the cast and laughs that never let up.
io9 is premiering this delightful video of the cast discussing just what it means to be sorted into the yellow and black. Whether you're a Puff, a Hufflepuff, or one of those other houses, we think you'll enjoy it.
We also spoke to Puffs playwright Matt Cox and director Kristin McCarthy Parker about their wonderful ensemble. "The cast of Puffs is a true delight to watch every night," Cox told us. "Just a whole lot of talent among a wonderful group of weirdos. Most everyone has been with the show essentially from the beginning, the roles were written for and evolved alongside the actors' performances."
Parker said she sees something new every time. "The show is at once very settled and confident while being fresh and surprising each night. And, of course, you never know quite what [character] Zach Smith is going to say," she said, referring to a few parts of the play that are improvised in each performance.
Harry Potter fans are an enthusiastic bunch and Parker says the response to the play has been "truly incredible." She explained, "I love to listen to what audiences say as they exit the theater, whether they're repeating their favorite line, explaining a subtle reference to their friend, or noticing a detail, like our portraits and notes in the house."
G/O Media may get a commission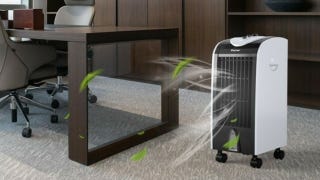 Save $10
Evaporative Portable Air Conditioner Cooler with Filter Knob
"Puffs has both surface-level references to a certain wizard series and a quite a few deep cuts," Cox said. "The deep cuts get some pretty hefty laughs most shows, and I think there's something really fun about being able to sit in a room with a bunch of people who you've never met but all had this shared experience of these books [and] movies growing up."
But there's really something for every nerd. "The fact that audiences laugh at the various pop culture references in the show validates a lot of what I spent my time watching and obsessing over growing up, so that's been helpful," Cox continued. "In the end I got to write a play with Star Wars references, Rocky IV jokes, a monologue about Free Willy, Gameboy shenanigans, and a Mighty Ducks 2 joke, and much more."
The show's initial premise was simple, according to its creator: "Boy, wouldn't it have kinda sucked to be another kid at that magic school?" Puffs was initially scheduled for just five performances at a comedy theater but grew tremendously from there. Cox said, "We hoped to maybe extend for an extra month. So, that the show is still rolling on nearly two and a half years later, moved to a wonderful theater at New World Stages... is just really something."
If you're not local to New York, don't worry, a national tour and international productions are in the works, and a live-taping of the show is soon to be released.
If you're wondering how Cox and Parker feel about that other wizard play about to debut on Broadway, they're excited. "Like any addition to a major series, it sparks new dialogue and creates opportunities for new fans to emerge," said Parker. "As superfans ourselves, we're just as excited as the next guy to be here in New York while it's running." Added Cox, "More opportunities for fans to celebrate their fandom is always a good thing."