If you're a Texan whom Hurricane Harvey royally fucked, tough luck. The Federal Emergency Management Agency announced Monday that displaced Harvey survivors have until Saturday to figure their shit out.
The agency is finally ending its Transitional Sheltering Assistance program after more than 10 months since the Category 4 storm struck the Gulf Coast—and after extending it seven times already. The program helped pay housing costs for displaced residents, including hotel fees. It ends July 1, reports The Houston Chronicle.
So, uh… where are the 820 people still living in hotels gonna' go? Maybe they can ask the other 1,400 Texans who faced similar circumstances in April. In that instance, FEMA kicked people out of hotels because enough housing existed in their five counties.
The decision to end support for displaced families comes just a week after some southern Texas counties experienced severe flooding—an episode disturbingly reminiscent Hurricane Harvey. At least one family can't seem to escape the water's wrath. Floodwaters ruined their new home after they lost their last one to Harvey. This is their new normal.
The state is working on securing funding to help repair homes and rebuild counties Harvey left devastated, but that doesn't solve anything for those in hotels today.
G/O Media may get a commission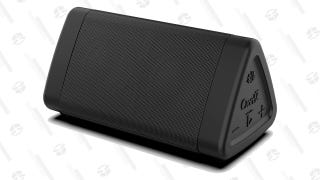 Save 31%
Oontz Angle 3 Portable Bluetooth Speaker