Warner Bros. got a bit of flack over the past few weeks for its apparent lack of advertising for Wonder Woman, its first female-led superhero film. Even though later reports suggested it's had more advertising dollars behind it than Suicide Squad, the backlash seemed to work... as we've since gotten a slew of TV ads and promotions for Diana's debut. Sadly, some of those promos aren't helping.

ThinkThin, a line of protein bars, smoothie mixes, and oatmeal geared toward weight loss and management, recently announced a massive promotional partnership with Wonder Woman. The pairing includes big displays, discounts on tickets, as well as a contest to win a VIP trip to the film's premiere. This isn't the only product that Wonder Woman has paired with so far— the film's also got deals with PinkBerry and Dr. Pepper. But, to be honest, this one was a pretty bad idea.
Before I go into anything else, this isn't about thinkThin or female-focused protein products in general— I've tried thinkThin bars before and they're not bad. This is about what kind of message Warner Bros. and Wonder Woman are sending by advertising with it.
Marketing has an incredibly unhealthy relationship with female body image. While there have been efforts over the past few years to encourage more body diversity in advertising, there's still a major stigma over weight and appearance. At least nine out of 10 fashion models nowadays are dangerously underweight, and both women and girls are targeted into insecurity for the sake of promoting clothes, lifestyles, or weight-loss products. It's gotten to the point where about half of 3 to 6-year-old girls worry about their weight.
G/O Media may get a commission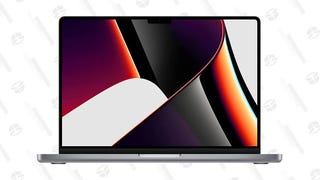 Save $300
2021 14" 1TB MacBook Pro
Nowadays, superhero films are geared as much to children as they are to adults. It's why Batman v. Superman was advertised on kids' cereal boxes, even though it's a pretty violent film. But, we didn't get the Dark Knight on a protein powder commercial, nor was Superman out there promoting protein-enriched Greek Yogurt with a store display. So, what kind of message do girls receive when they're told that Wonder Woman, their superhero icon, wants them to buy products that literally tell them to "think thin"?
Wonder Woman is the first female-led superhero film we've gotten in years, and arguably the biggest one to date. It doesn't have a responsibility to be a perfect film, as impossible expectations have been used to discredit movies with female leads. But, I do say it has a responsibility to respect its audience. It clearly looks like they've tried to market the film to women and girls, especially since they used Supergirl's audience engagement as inspiration. But, this is the wrong way to do it. Women and girls don't want to be told they need to "think thin" in order to be Wonder Woman. They already are Wonder Women.
Still, it's not as weird as that Beauty and the Beast banana.