This was my seventh year I've covered CES, and after the first day on the show floor I was ready to wash my hands of the whole spectacle for good. Then I went to the Sands, and all of a sudden I never wanted to leave.
Deadly Mississippi Tornado Kills More Than 2 Dozen | Extreme Earth
My very first CES was an amazing experience. Walking onto the show floor was like walking into a wonderland of technology with seemingly endless rows of booths packed full of amazing things to play with. But every year since I've found fewer and fewer products that got me truly excited. Sure, there were occasional bright spots, like the resurrection of PalmOS a few years back, but those were the exception. It's exhausting to spend three days sifting through the rough and coming up with cubic zirconium.
The Las Vegas Convention Center (LVCC) is the CES epicenter. It's where giant corporations like Samsung and Sony build booths larger than many small towns, and the endless sea of electronics fills three giant halls on multiple floors. It's where you'll find the biggest companies exhibiting at the show, but it's also where I found endless square footage of disappointment. The most novel thing to be found at the LVCC this year was Sony's misguided $1200 Walkman revival.
After a day of scouring me-too smart home concepts and yet another curved TV, I reached the breaking point. There were so few genuinely innovative products to be found, I was mentally already checked out of next year's show. The LVCC was a wash. CES was a waste. I was never coming back.
G/O Media may get a commission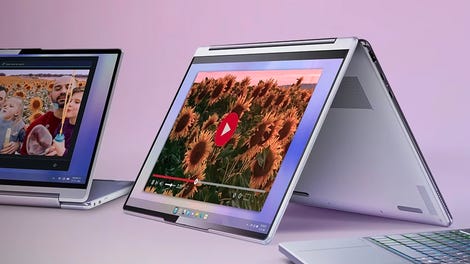 up to 70% off
Lenovo Spring Clearance
It turns out I was just looking in the wrong place.
The sister-site to the LVCC is the Venetian's Sands convention center, a considerably smaller venue that often serves as overflow for the main event. A few years back there wasn't actually a show floor there at all, just a few private suites showing off expensive audiophile gear. And when there was stuff worth seeing at the Sands, it's usually just an afterthought, one last stop to make before you hoof it to the airport. Not anymore.
When I walked into the Sands on Wednesday morning I had that very same feeling I did the first time I walked onto the CES show floor at the LVCC seven years ago. The venue is considerably smaller, and it's full of companies that are ants next to elephants Samsung and Sony. But it's also where almost all of the innovation was at CES this year. It's the little guys who are willing to experiment, take a risk, and design products that truly bring something new and exciting to the world of consumer technology. And it's those companies that put a smile back on my face at CES.
A 9-volt battery with built-in Wi-Fi that makes old smoke detectors nearly as smart as your Nest thermostat? Brilliant. An impossibly light and indestructible carbon fiber RC plane that shoots video? How fun is that? An automatic bread machine that can churn out a fresh roti every minute? I want ten of them in my kitchen. And the list goes on and on.
Further exploration yielded even more results; next to these smaller companies there are even smaller ones to be found in what's known as Eureka Park, a playground where hundreds of startups hope to bring their creations to market, and maybe get a little exposure in the process. As a reporter, when you're dealing with a large corporation, you're actually usually dealing with its public relations team. And while there are some agencies that are certainly wonderful to work with, a deep passion for the products they represent is rarely there—or at least it's nowhere near the level of passion you'll get when you're talking to the CEO of a three-person startup. Having the opportunity to interact directly with these inventors about their products and the companies they've spent years passionately developing is an absolute joy.
It's the smaller exhibitors who are genuinely thrilled to show off what they've brought to CES, because they've spent the last year prototyping, redesigning, and perfecting their product. And when you're a reporter on the hunt for what's new and innovative at the show, it not only makes your job easier, it makes it far more enjoyable. Every employee of every burgeoning company I had the opportunity to talk to during my second day of CES was passionate about what they do, and what they'd created. And because they weren't worried about stock prices or pleasing their investors, they were all more willing to go out on a limb and create a new product that truly had the potential to innovate. I just couldn't help but get excited about what they'd created right along with them.
I can remember some of MakerBot's first booths (tables, really) at CES many years ago, where the company showed off its original 3D printer made of wood that hobbyists had to assemble themselves. It was a device that was nowhere near as slick as the gadgets (tablets, probably) that Sony and Samsung had on display at their gigantic booths, but it was new, it was different, and the company's tiny booth was packed. The LVCC hasn't had that excitement in forever. It didn't this year, either. But this feeling was always bubbling at the Sands, and it's finally grown large enough that innovation and excitement is now thriving once again at CES.
As I'm writing this my legs ache, my joints throb, my feet are blistered, and my sinuses are dryer than the Sahara. Covering CES can take a serious toll, and I know when I get home I'm going to get very sick in the next couple of weeks. But I don't care. I'm excited to do it all over again in January next year, and I'm excited to be excited about CES again.