Judging by Ian McKellen's renewed optimism, The Hobbit's production woes are nearly over. Carey Mulligan explains why you can't trust her character in Never Let Me Go. Plus spoilers for Transformers, Fringe, Chuck, The Event, Supernatural, and more!

The Hobbit:
Sir Ian McKellen now says he will definitely be back as Gandalf, and the movie will hopefully start shooting in January, which tallies nicely with some other recent rumors. This still shouldn't be considered official confirmation, but considering how frustrated McKellen has seemed with the project previously, his sudden optimism is probably based on something at least somewhat tangible. So um... that's a thing, I think. [The Bolton News]
Never Let Me Go:
Carey Mulligan - who will always be Sally Sparrow to me, I don't care how acclaimed she gets - explained why she feels the movie captures the book, and what interests her about her character Kathy:
The script really captured the book perfectly. There's always a scene that you miss, and the whole way through the shoot I was asking if we could put in scenes from the book that we just didn't have time for. I think you have enough time with the characters and it's not a long, laborious film. I think the voiceover was the biggest indicator of who [Kathy] was. It was so faithful to how unreliable she is as a narrator in the book. She's always skirting around the subject, always diminishing her feelings. She's saying, "I felt a tiny stab of pain," these tiny statements that mean a huge amount. Most of the characters I've played have been really emotionally articulate and expressive and said everything on their mind. With Kathy, she really never does.
G/O Media may get a commission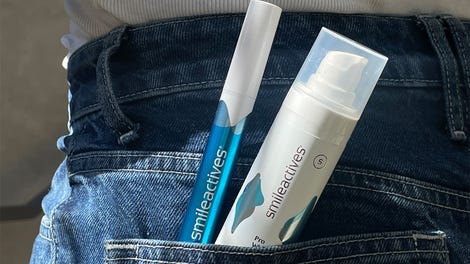 58% off
Whitening Powerhouse Pen & Gel Duo
The Hunger Games:
Gary Ross, director of Pleasantville and Seabiscuit, has reportedly emerged as the main contender to helm the adaptation of Suzanne Collins's young adult trilogy. [Deadline]
Harry Potter and the Deathly Hallows:
A Brazilian Harry Potter site reports John Williams will be back to score both parts of The Deathly Hallows, which would make this his first involvement with the franchise since The Prisoner of Azkaban and the first film working with David Yates, who has directed the last four adaptations. [Potterish]
Transformers 3:
I've said it once, I've said it a hundred times, it's not a Michael Bay movie until a train gets derailed. Which is why this new set video is such a relief: [TFLAMB]
An extra for the Detroit portions of filming has some spoiler-y details. It explains the purpose of the train and suggests the film never actually visits Detroit:
The shoot involving the train derailed is called "Mayor's Mile" and is a continuation of the Chicago sequence. The scene itself will take place in Chicago within the movie. It involves the intro of a main antagonist, (which is the large construct with 2 turbines in the rear photographed earlier when Detroit production arrived). I won't reveal just yet who it is, but he will then transform and reveal himself to be orchestrating much of the chaos on Earth, most Autobots arrive (Bumblebee, Ratchet, Sideswipe, Wheeljack, and the Ferrari) to battle him. Prime, Ironhide, and Josh Duhamel are involved in another sub-plot that will be revealed later."
Probably wise to take this with a grain of salt for now. Either way, here are some more set photos: [TFW2005]

Fringe:
Here are a few more set photos: [Susan Gittins's Flickr, Nigel Horsley's Flickr, and Oh No They Didn't via SpoilerTV ]

Chuck:
Executive producer Chris Fedak and Morgan portrayer Josh Gomez discuss what Morgan's role will be in the new season:
Josh: I'm definitely part of Team Bartowski. I don't know how much the CIA loves me. *laughs* The Buy More is rebuilt and taken over by the CIA, and Morgan basically becomes the "through." He's in charge of keeping the CIA's cover, to make it look and feel like the Buy More. I'm not jumping out of any planes yet, though, so there's room for growth.
Chris: Something we realized last year is that Gomez is just wonderful in the spy world, so we do look forward to bringing him back on spy missions this year.
Josh: Yay!
Fedak also says the first episode features Chuck and Morgan taking on an entire base of Russian bad guys, which is both great action and very funny. There's also a great fight in the second episode between Sarah and guest star Karolina Kurkova. Josh Gomez said his dream guest star would be Vince Vaughn, and Fedak agreed it would be great fun to see him take on the Greta alias for an episode. There's a lot more to the interview that's well worth checking out at the link. [ChuckTV]
This new promo for "Chuck vs. the Anniversary" makes it quite clear why they brought in Linda Hamilton - for the badassery: [SpoilerTV]
In another interview, Chris Fedak reiterates that the will they/won't they aspect of Chuck and Sarah's relationship is now done with, but they will still have issues. The main one will probably be that Sarah is still a spy while Chuck finds himself unemployed, which introduces stress and tension into the blossoming relationship. [Fancast]
Will Riker himself, Jonathan Frakes, will reportedly direct an episode this season, most likely the eighth or ninth. [StarTrek.com]
The Event:
Executive producer Nick Wauters recently gave an interview - which is well worth reading in its entirety - and he began by clarifying the roles of Scott Patterson and Taylor Cole...to a point:
Both Scott Patterson and Taylor Cole are definitely series regulars and play an important role in our story. Scott plays Leila's father. However, in order to keep the mystery, that is all I can tell you about both Scott and Taylor at this time.
He also explained that, though the show is serialized, it's designed for people to be able to pick it up fairly easily:
The show is serialized and does involve a conspiracy but we are doing all we can to make our characters as relatable as possible so you can quickly understand who they are. We will have occasional stand-alone episodes and also somewhat reset the story after 5 or 6 episodes. That way, you can embark on a journey with us mid-season even if you haven't seen the show before. Or, you can always catch it online.
Here's a lengthy sneak peek: [SpoilerTV]
Doctor Who:
Director Richard Clark tweeted a somewhat blurry photo from the set of an episode he's currently shooting, which is either Neil Gaiman's episode three or Mark Gatiss's episode four. He comments, "I'm scared filming this. The kids are gonna freak." It appears that almost the entire episode takes place in a single small room. [Blogtor Who]

Supernatural:
Here's a new season six promo: [The Ausiello Files]
Executive producer Sera Gamble says the episode "Live Free or Twihard" won't, despite its title, actually name names when it comes to the recent spate of silly sexy vampire fiction. After all, to do so would mean taking direct aim at the CW's other successful supernatural show, The Vampire Diaries, so it and Twilight will only appear in somewhat fictionalized versions. Although the Winchesters will likely have some choice words for both franchises, Gamble insists she's a fan of both and and that this is more affectionate parody than brutal deconstruction. [The Ausiello Files]
Warehouse 13:
In a conference call on Monday, C.C.H. Pounder speculated as to who Mr. Fredric might be:
Well, I've been trying to figure this guy out. First of all, is he still alive? Did she take over his job? Was there actually a Mr. Fredric and she knew so much about him that she just took his place, which sounds a little bit like Avatar with the dude, the dead brother and the living brother. But, it's a possibility. And then again, there's Mrs. Fredric with that fabulous beehive hairstyle stuck in the 60's, perhaps he was the guy in the audience that - while she was singing in the nightclub, that passed on secret information to her. I really could go anywhere. So, I have no clue, but I cannot wait to see who or what Mr. Fredric was or is.
She also wondered whether this Mr. Fredric might look his real age, wondering, "So is he like 150?" Whatever ideas the showrunners have for Mr. Fredric, here's hoping they were listening to this as well.
V:
Here are a few more behind-the-scenes photos: [The V-Files]

Smallville:
The CW has put out another, longer official synopsis for the premiere episode "Lazarus":
Lois (Erica Durance) finds Clark's (Tom Welling) lifeless body and removes the blue kryptonite enabling him to heal himself. However, Lois sneaks away before Clark fully awakens in order to protect his secret. Meanwhile, Chloe (Allison Mack) is desperate to find Oliver (Justin Hartley), so she turns to an unlikely source for answers. Jonathan (Schneider) returns to the Kent Farm with a message for Clark, and Tess (Cassidy Freeman) awakens in a LuthorCorp lab.
And here are a few new photos from the premiere:

The eighth and ninth episodes will reportedly be called "Abandoned" and "Patriot." The ninth episode is the one that features the return of Aquaman. [KryptonSite]
The Cape:
Here are some new details on episode two:
The episode is called "Bluebeard," referring to the episode's villain, a man who wears a leather surgical mask on his face and wears a long jacket with a dirty French Victorian look to it. He wears slings of surgical knives, and butcher knives seem to be his weapon of choice. Also in the episode we meet Marty Voyt's family.
Additional reporting by Mary Ratliff and Charlie Jane Anders.