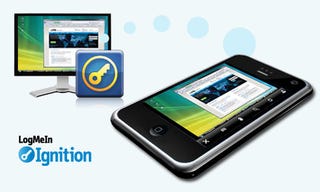 Kevin Koch is on a Colorado mountain when he gets a tech call only he knows how to answer. With a few strokes of his iPhone and LogMeIn Ignition, he fixes the problem, becoming an IT hero from 14,000 feet.
Can your app do that?
If you're like most people, your apps aren't helping you out. Sure, you can raise cows on a virtual farm or pop bubble-wrap for hours on end-but let's get serious.
A survey of LogMeIn Ignition for iPhone users reveals that over 65% are accessing their work computer from their iPhone. That means iPhone users are ditching their laptops, traveling lighter, and staying productive right from the palm of their hand.
There are handfuls of true stories like Kevin's to prove it.
LogMeIn Ignition is probably one of the few apps you really need, and it's on the App Store now (and currently on sale 'til midnight 12/17 for $19.99).