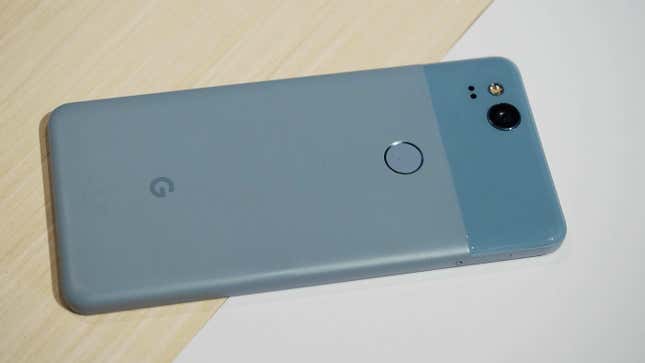 If you're worried that Google might change its mind about including the hated notch on its rumored Pixel 3 smartphone, don't be: You're still getting that terrible notch, if this alleged unboxing of a Pixel 3 XL is the real deal.
Apple's Vision Pro Seems Powerful, But Who Is It For? | Future Tech
According to Android Police, a Ukranian blogger published images and video on Telegram of an alleged Pixel 3 XL production unit—Google's sequel to its last extra-large Android smartphone. The leak includes an unboxing video, showing what looks like the Pixel 3 XL in packaging similar to its predecessor. This box, however, included the fabled pair of wired USB-C headphones, previously absent in the Pixel 2 and 2 XL box, despite certain packaging materials suggesting they should have been included.
The addition would be noteworthy; finding USB-C headphones isn't exactly easy, as competing audio standards have made it difficult for manufacturers to support devices with USB-C ports in lieu of 3.5mm headphone jacks.
This apparent Pixel 3 XL also includes everyone's nightmare: a huge, honkin' notch. We saw evidence of its upcoming appearance both in the code of Google's own app and in a leaked photo last month, but seeing it again today is nevertheless a real disappointment. Where the notch on the iPhone X is wide and slim (bringing its own set of issues), Google's Pixel 3 XL notch is apparently more stout, extending further into the display than its competition.
I'd do anything to ditch the notch in favor of having my screen real estate returned to me (I'd even use a sliding phone if that's what it takes), but I suppose this is what we're stuck with as long as people continue buying phones with bites taken out of the display.