Political art doesn't always involve the people it represents, but artist Mel Chin isn't one to let them take a back seat in his pieces. He immerses himself in the communities that inspire him—like Flint, Michigan. One of his latest pieces, "Flint Fit," took that city's environmental crisis and turned it into sustainable fashion.

On display at Chin's current art exhibition at the Queens Museum in New York City, "Flint Fit" is an art piece inspired and made possible by the people in Flint, Michigan, who are still reeling from a man-made crisis in which the entire city's water supply became contaminated with lead. It's left them so traumatized that most still drink bottled water. Chin decided that these plastic water bottles shouldn't create a new environmental hazard; they should go toward something beautiful. What better than clothes?
"He started to think about what could he do, as an artist, to not just bring attention to this because the entire nation knows about this issue, but to also create hope," said Manon Slome, a curator of the exhibition who worked closely with Chin to get his "All Over the Place" exhibition together, to a group during a sun-filled tour at the museum.
Chin worked with residents and community organizers in Flint last year to collect 90,000 empty plastic water bottles over six weeks. From there, they were converted into REPREVE yarn in Greensboro, North Carolina, the bottles first becoming plastic flakes in a factory before getting blended, melted, and turned into a chip that, when melted, became fabric. This recycled plastic fiber fabric became garments, designed by New York fashion designer and Michigan native Tracy Reese, back in Flint. Staff with the city's St. Luke N.E.W. Life Center, an employment training center for individuals society refuses to hire, sewed up garments that make up "Flint Fit," including teal bathing suits, tan raincoats, and dresses in both colors.
G/O Media may get a commission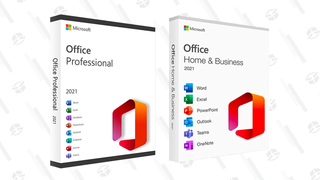 89% off
Microsoft Office Professional 2021 Lifetime License
"This particular sewing circle is for women who've been subject to domestic violence, and so it's bringing a trade," Slome went on. "It's like an incubator for a potential project for Flint, Michigan, that not only brings awareness to the issues, but Flint was originally a manufacturing town, and it all sort of disappeared, so could this be an incubator for a new industry."

Flint's manufacturing history plays a part in the art, too. The clothing is themed around what was in style back in the 1940s when Flint was living the American dream with a General Motors factory in town. The exhibition is also supposed to signify the "resiliency of the people of Flint," read a body of text in the exhibit.
Resilient they most certainly are. This city has seen disappointment upon disappointment after the state failed to protect its water and residents from lead, a toxic metal that can impair neurological development in young children. The metal leached into the city's water system in 2014 after a water switch, and to this day, many residents are still relying on bottled water—for which the state now refuses to pay.
If the idea of fashion-made-of-plastic doesn't interest you, I assure you that something else in Chin's exhibition will. It features pieces ranging from sculptures to jewelry, from an interactive keyboard to giant audiovisual spheres of the Atlantic and Pacific oceans. Much of Chin's art revolves around lead poisoning and environmental injustices, including the pieces that come before and after "Flint Fit."
If you go through the museum the way Slome takes guests (the best way), you'll find the Neustadt Collection of Tiffany Glass before arriving at "Flint Fit." There, a piece of Chin's work hides in plain sight among other luxurious stained-glass lamps. His own lamp in the style of Tiffany glass,"Study Lamp," is made of lead-infused glass and is supposed to depict the brain after lead exposure. The lamp's glass is stained red-orange in the regions meant to represent the parts of the brain lead exposure messes with the most.

After "Flint Fit," just two exhibits away from the lamps, you'll find a series of portraits drawn with lead-point pencils of people who've suffered from lead poisoning, including famous composer Ludwig Beethoven. Right next to them is a science-turned-art experiment of sorts that breaks down the ways plants can filter heavy metals out of the soil.
Chin is a true genius, and his work fills the space in the Queens Museum with an energy that both awakens your spirit and humbles it. You're reminded of the many experiences people, animals, and the Earth face as a result of irresponsible human actions that continue to degrade our environment. "Flint Fit" represents just one of them.
"All Over the Place" runs until August 12.