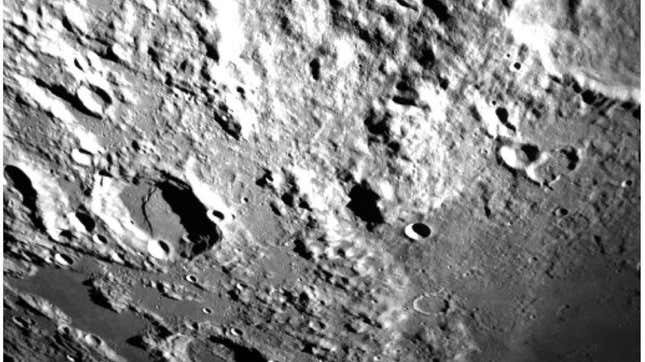 India's Chandrayaan-3 mission is aiming for a landing spot on the lunar south pole, hoping to make history as the nation's first successful touchdown on the cratered surface.
Meet Microsoft's New Surface Laptops
Update: August 23, 8:40 a.m. ET: The Chandrayaan-3 mission successfully touched down on the lunar surface at 8:34 a.m. ET.
Original article follows.
Chandrayaan-3 is scheduled to land on the Moon on Wednesday at 8:34 a.m. ET (6:04 p.m. local time in India). The Indian Space Research Organization (ISRO) will provide a live broadcast of the spacecraft's landing attempt through its website, as well as the space agency's YouTube Channel. You can also tune into the action through the live feed below, which is set to begin at 7:50 a.m. (5:20 p.m. local time).

Chandrayaan-3 launched on July 14 from the Satish Dhawan Space Centre on board India's Launch Vehicle Mark-3 (LVM3) rocket. The mission marks India's second attempt to land on the Moon. Chandrayaan-2 crashed on the Moon in September 2019 as it tried to touch down on the dusty surface. Should Chandrayaan-3 stick the landing, India will join a small group of countries that have successfully landed on the Moon: the Soviet Union, the U.S., and China.

Chandrayaan-3 is made up of a propulsion module, a lander, and a rover. Its main goal is to demonstrate the ability to land on the Moon and roam the lunar surface for exploration to help develop new technologies for interplanetary missions.
The lander, nicknamed Vikram, is equipped with a ramp for deployment and is designed to carry the rover to the surface of the Moon. Pragyan, the rover, carries a laser-induced breakdown spectroscope and an alpha particle X-ray spectrometer to study the chemical composition of the surface of the Moon. All in all, the mission is designed to operate on the Moon's surface for a lunar day, which is roughly equivalent to 14 Earth days.
India's Chandrayaan-3 was locked in a race to the Moon with Russia's Luna-25 mission, which was also targeting a landing spot on the lunar south pole. Luna-25, however, crashed on the surface of the Moon on Saturday, two days before its scheduled landing attempt.
India has been making strides with its space program and recently signed onto the Artemis Accords with NASA, making way for increased cooperation on the ongoing lunar program. ISRO now has to prove it has what it takes to land on the Moon, elbowing its way into a renewed race to Earth's natural satellite.
For more spaceflight in your life, follow us on Twitter and bookmark Gizmodo's dedicated Spaceflight page.