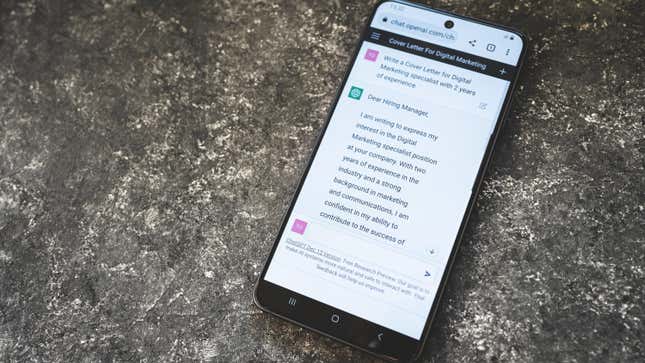 Insider's global editor-in-chief Nicholas Carlson has announced to both the newsroom and the public that the outlet will begin experimenting with ways to leverage ChatGPT for journalism.

It's Magic: LG's Rollable OLED TV
Carlson announced the development both in a memo to staff and in an exclusive with Axios. According to Axios' reporting, Insider is looking to set up a working group of staff writers to test how to responsibly add artificial intelligence into the company's workflow with internal applications for the working group opening today. As detailed in the internal memo, which was posted to Insider, Carlson is cautioning all of the outlet's writers not to include text generated by ChatGPT or any other AI chatbots verbatim in their articles. Likewise, Carlson said experimentation with the tech is the goal for the time being and warned all writers that AI can generate false statements, plagiarized content, and dull text.
"I've spent many hours working with ChatGPT, and I can already tell having access to it is going to make me a better global editor-in-chief for Insider," Insider global editor-in-chief Nicholas Carlson said in the memo. "My takeaway after a fair amount of experimentation with ChatGPT is that generative AI can make all of you better editors, reporters, and producers, too."
In the latter part of his memo, Carlson championed his staff to begin experimenting with artificial intelligence, and provided writers with ideas of what to use AI for in their day-to-day assignments. Carlson suggested using AI to develop outlines for stories, find typos to save editors time, create headlines that are optimized for search engines, and serve as an explainer of complex topics. Likewise, Carlson informed staff not to feed sensitive information concerning sources to ChatGPT.
While recent developments in artificial intelligence have been making waves for the tech's ability to write coherent—albeit occasionally incorrect—text, there are clear issues with implementing AI in a newsroom, and Insider will not have been the first media outlet to realize the issues of AI-generated content. Earlier this year, Futurism reported that popular tech outlet CNET was publishing entire articles written by artificial intelligence under a byline that read "CNET Money Staff." Some of those AI-written articles were riddled with errors and CNET had to publish corrections. Despite facing backlash from the public and a blow to its credibility as a news outlet, CNET said it has no interest in shying away from using AI in its newsroom.
Want to know more about AI, chatbots, and the future of machine learning? Check out our full coverage of artificial intelligence, or browse our guides to The Best Free AI Art Generators, The Best ChatGPT Alternatives, and Everything We Know About OpenAI's ChatGPT.