Summer reading — is it really a thing once you leave primary school? People seem to think it is, from all the summer reading lists that pop up around this time of year. But in between plowing through the novels in your to-read pile, don't forget to pick up or download some magazines as well. Here are the best stories I read last week.
The Contemporary Foxwife by Yoon Ha Lee | Clarkesworld Magazine
Excerpt: "Are you in need of a foxwife? I cook, do dishes, scrub floors"—who did any of that except as a hobby?—"arrange flowers, disarm bombs, perform minor surgery, and provide comfort and companionship." She?—they?—radiated hopefulness at Kanseun.
I love that this story takes place in a far-future science fiction setting, yet features a being from Japanese folklore. Yoon does this kind of thing particularly well.
Aqua Regia by Karen Munro | Kaleidotrope
Excerpt: Eden was a gentle boy, a little slow, a little sleepy, his mother's favorite. He wasn't as bold as his brother Osbert, or as timid as his brother Bon, or as quick and fiery as his little sister Vangeline. Eden, their mother said, had a long fuse.
G/O Media may get a commission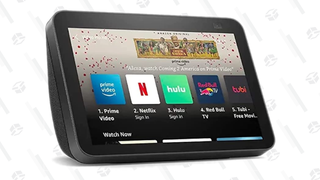 Even on other planets, it's hard to escape the gravity of oppressive systems designed to maintain an unequal balance of power. On colony worlds the available solutions are often the same as here on Earth: keep your head down and let the pressure crush you slowly over years or lash out. The characters in this story do both, and the exploration of these choices make for a painful, but satisfying tale.
Help Me Follow My Sister into the Land of the Dead by Carmen Maria Machado | Lightspeed Magazine
Excerpt: When I tell you that my sister has absconded to the land of the dead, do not mistake me. She hasn't died. She just did what she always does—i.e., go to a place where she isn't welcome and crash the party just because she feels like it. She heard that there was some "cool stuff" happening on the other side of the veil, and went. If you sense a tone of resentment to this entire project, that's because I have to go chasing after my wretchedly ungrateful wastrel of sibling into another dimension to tell her that our parents are dead.
This story is a reprint from the anthology Help Fund My Robot Army!!! (edited by John Joseph Adams) where all of the stories take the form of crowdfunding pleas. The concept is interesting but I had my doubts about whether or not it could be pulled off without seeming gimmicky. I should have known that Machado's story would be brilliant and work exactly right, given that she's already proved her skill at spinning great tales through unconventional story structures.
Seven Things Cadet Blanchard Learned from the Trade Summit Incident by Annalee Flower Horne | The Magazine of Fantasy and Science Fiction
Excerpt: I resisted the urge to point out that the unparalleled record of inspired, class-one pranks I have allegedly orchestrated aboard the Stinson should put me well above suspicion for something as budget as stink bombs. However, I reserve my right to submit a formal protest at a later time.
This year, F&SF's double summer issue has a guest editor: C. C. Finlay. If you haven't read the magazine in a while, you should definitely give this issue a try. This story is another one with an unconventional structure and a main character who's engaging, enraging, and a lot of fun to follow.
Read any other good stories this week? Call 'em out in the comments!