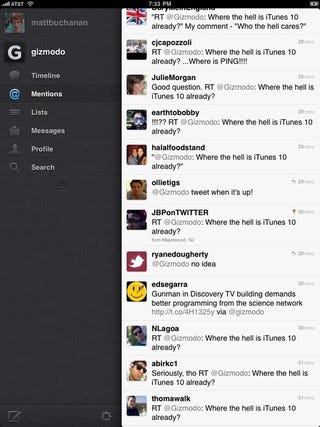 Twitter: Holy hell, the official Twitter app for iPad is finally here. Here's the essence of what Matt had to say:
If you're a serious Twitter user, you'll probably love it. It's designed to be a complete tweet-and-browse-and-tweet-some-more package, so you can consume what people are tweeting and everything they're linking to, inside of a single app. The tradeoff for the added complexity is that more casual Twitter users might prefer simpler-feeling apps like Twitterific.
It is indeed powerful, perhaps unnecessarily so, but it's free and official and worth checking out to see if it suits you. Free.

Boston.com Big PIcture: Boston.com's Big PIcture—a regular collection of awesome, large photographs of various subjects—is one of those things that you can't help returning to after you come across it the first time. The recent 2.0 upgrade of the iPhone app brought iPad support, which mostly works great. There's still some room for improvement, like, say, loading the next picture automatically for a smoother scroll through, but even as it stands now, the app's a great way to digest Big Picture's great content. $3
NASA App HD: Gary, blast us off:
NASA's new iPad app lets space-fans catch up with all the latest happenings, track satellites, watch NASA TV, leaf through its archive of fantastic imagery and much, much more.

It's been possible to stream NASA TV on Apple devices for quite some time, but now there's more to play with between broadcasts. The app lets iPad users browse NASA's image database, read up on current missions and future launch data, or track satellites-with a specific section telling you when to open the window and look out for the International Space Station passing overhead.

NASA's App HD for iPad is out now on iTunes, for free.
The vastness of space! On your futuristic tablet! For free!

Seline HD: Hot damn. I played with Seline HD, a gorgeous, futuristic music making app, for about half an hour and I still don't know what I'm doing (I skipped the help documentation), but I can already tell that this, moreso than 90% of the other music apps I've used, sees the potential for the iPad as a music making device. Very interesting UI and a huge variety of options, including an ergonomic, split playing surface, a selection of 20 odd instruments and several drone sounds, and the ability to overdub recordings on top of yourself—it's pricey, but as one of the most ambitious apps I've seen on the iPad, period, it's allowed to be. $9