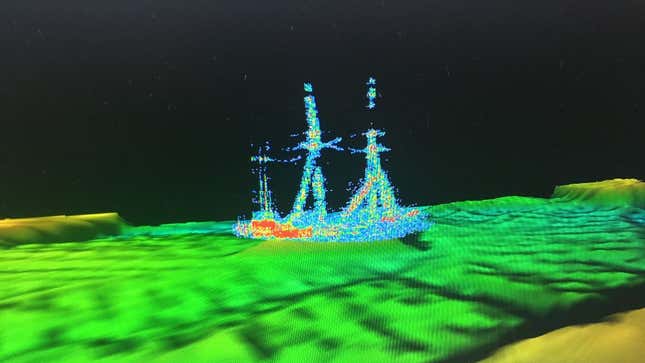 Researchers with the National Oceanographic and Atmospheric Administration, the state of Michigan, and Ocean Exploration Trust have found a long-lost sailing ship called Ironton resting upright at the bottom of Lake Huron.

Vizio's Latest TVs Go All Quantum
As the 191-foot-long (58-meter) Ironton sailed across the inky black water of Lake Huron in the early hours of a September 1894 morning, it collided with a freight ship called Ohio. Ironton sank, with only two of its seven crew surviving to tell the tale, and no one saw it again for over a century. This week, NOAA announced that the Ironton was found using sonar imaging in 2019. Researchers located the ship hundreds of feet below the surface, sitting upright on the lakebed, with its three masts and rigging appearing relatively undamaged.
"The discovery illustrates how we can use the past to create a better future," said Jeff Gray, Thunder Bay National Marine Sanctuary superintendent, in a NOAA press release. "Using this cutting-edge technology, we have not only located a pristine shipwreck lost for over a century, we are also learning more about one of our nation's most important natural resources—the Great Lakes. This research will help protect Lake Huron and its rich history."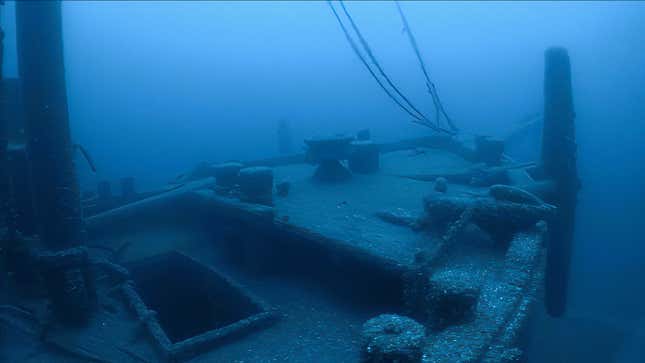 According to NOAA, Ironton was traveling with the Moonlight, both in tow behind the Kershaw as all three departed Ashtabula, Ohio en route to Marquette, Michigan. At 12:30 a.m. on September 26, 1894, the lead vessel's engine failed while a strong wind pushed Moonlight and Ironton toward the crippled ship. Crew aboard Moonlight severed the line holding Ironton to Kershaw, and Ironton drifted away into the dark of the night.

At the mercy of Lake Huron's winds, Ironton veered from its course and collided with Ohio, a steamship that was carrying 1,000 tons of grain to Ogdensburg, New York from Duluth, Minnesota. Ironton's bow ripped a 12-foot (3.6-meter) hole in Ohio's hull, and Ironton drifted for an hour before sinking beneath the waves.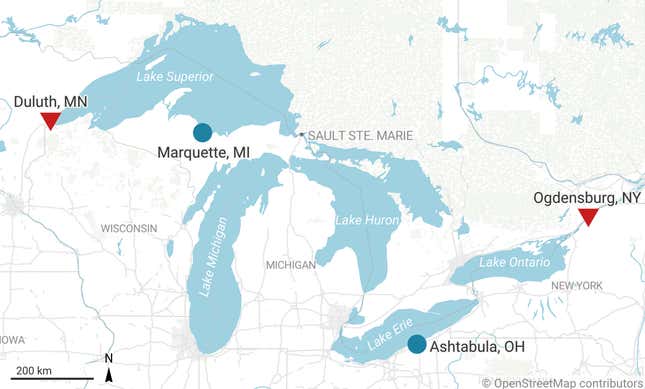 Researchers from NOAA's Thunder Bay National Marine Sanctuary began looking for both Ohio and Ironton in 2017, and found Ohio submerged under 300 feet (91 meters of water). In 2019, NOAA partnered with Robert Ballard's Ocean Exploration Trust to find Ironton using a piece of technology called BEN, or "Bathymetric Explorer and Navigator," which is a self-driving boat that can use sonar to map a lakebed.

Using sonar imaging and knowledge of the location of Ohio—along with historic wind and weather data from the time of the collision—the team of researchers soon found a ship. After observing the wreck with a submersible, they confirmed the wreck was the Ironton. NOAA says that Thunder Bay National Sanctuary is planning to create educational materials and exhibits based on the Ironton. Divers can also visit the site of the wreck.
"The discovery of Ironton inspires us to keep exploring," said Gray. "We will continue to map Thunder Bay National Marine Sanctuary, and this research will ultimately lead to even more discoveries about the Great Lakes and the unique collection of shipwrecks that rest on the lakebed."
More: 'Road to Atlantis' Discovered on Seafloor Is Not Road to Atlantis