Could a member of Rogue One's cast be a character from the original trilogy? The Guardians of the Galaxy cartoon reveals Rocket Raccoon's origin. Gotham casts another Batman villain—with a twist. Plus, J.J. Abrams on piecing together what we've seen of The Force Awakens, and a look at The Last Kingdom. Spoilers!
Is AI Moving Too Fast? | Future Tech
Neil Blomkamp's Alien
There's speculation that this movie has already entered "development hell." But Bloody Disgusting reports (based on anonymous sources) that it's still happening—but it's been put on hold due to Ridley Scott's upcoming Prometheus sequel. The source says:
Alien 5 is still very much in the works, as Fox remains hot on the idea. Blomkamp continues to work on the script (only an outline existed previously) and refine the tale he is telling. Ridley Scott is still producing, but has insisted on Prometheus 2 being made first.
Blomkamp might not start directing Alien 5 until 2017—which could have the additional advantage of resolving scheduling problems for Sigourney Weaver, who's already signed on to the Avatar sequels. The rumor adds that we could see Prometheus 2 in 2017 and Alien 5 in 2018.

---
Star Wars: The Force Awakens
J.J. Abrams says the current cut of the film is just over two hours long: 124 minutes to be exact, making it the second shortest Star Wars film (tied with Empire Strikes Back). [/Film]
G/O Media may get a commission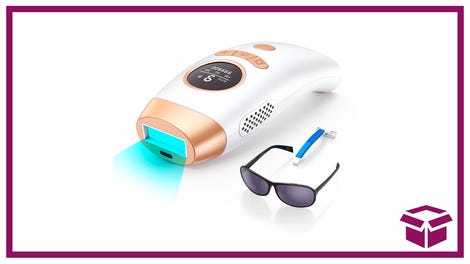 58% Off + Coupon
IPL Hair Removal Device
Meanwhile, Abrams also discusses what we've learned from the footage released for the film thus far:
They're all, in a way, pieces of a jigsaw puzzle that is, little by little, coming together in some form. We're doing the best we can to simply finish this movie, and make it as good as it can be, and at the same time, dole out moments and characters and images that will be in line with what Lucas has been doing for so many years.

There are many things that have been seen that of course can't be understood yet—some things are throwaways; some things are more important. But the fundamental thing is the movie, and wanting to make sure that we are platforming and helping where we can, but not in any way ruining or divulging things that would make the experience of seeing the movie lessen.
---
Star Wars: Rogue One
Another day, another bizarre bit of fan speculation—a new rumor is circulating that Diego Luna's character, revealed in the first cast photo at D23 this weekend, could in fact be a young Biggs Darklighter. Biggs, if you don't remember, was Luke Skywalker's best-friend-turned-Alliance-pilot who perished at the Battle of Yavin in A New Hope.
However, as this is all speculatory at best, based on Luna's resemblance to Garrick Hagon—and it's also not the first time a Rogue One character has been rumored to have links to another known Star Wars star—so take it with a pinch of salt for now. [/Film]
---
Fantastic Beasts And Where To Find Them
Production has begun on the film at Warner Bros. Studios in Leavesden, England. One new piece of casting has been confirmed as part of the press release announcing production: Samantha Morton has been cast as a character named "Mary Lou".
---
Tag
Fox have begun developing an adaptation of the Boom! Studios comic series, about a man who is "tagged" with a virus that begins decomposing his body, and forces him to wrestle with either discovering the mystery behind the virus or choose to "tag" someone else with it. Annabelle Director John Leonetti has been tapped to direct. [Coming Soon]
---
Resident Evil 6
Ali Larter (Claire Redfield) discusses being part of the final film in the longrunning video game adaptation saga:
We are not allowed to say one thing. I am held to secrecy, but what I can tell you is that the script is amazing. They're really wrapping up the whole series, so that just makes it a little more poignant. To be able to come back and reprise my role as Claire and my relationship with Alice, with Umbrella Corp. — you know, I'm excited to get back in it. I think the fans are just going to be beyond excited.
---
X-Men: Apocalypse
An instagram photo from a fan who allegedly visited the set during filming—naturally, your pinch of salt is already in your hand—claims that the mutant Blob will appear in the movie, played by a French-Canadian actor. [CBR]
---
Doctor Strange/Captain America: Civil War
Here's an edit of B-Roll from Marvel's appearance at the D23 Expo's live action panel—the footage of Civil War and Doctor Strange's concept art is not included, but you can read descriptions of that footage here.
---
Supergirl
Calista Flockheart talks about her character, Cat Grant:
She's not a bad guy. She's uncompromising. She's hugely successful. I'm not sure that she became hugely successful by being sweet all the time. But I think at her core, I think she's good.
[CBR]

Speaking of Cat Grant, the show has cast Pan star Levi Miller as her son, Carter Grant. In the show, Carter befriends Kara while she babysits him for Cat, before he "finally opens up to her — revealing his true feelings for Supergirl". Although they don't share the same name, in the comics Cat's son, Adam Morgan, is eventually murdered by the supervillain Toyman. [TV Line]
---
Gotham
According to TV Line, the show has cast Michelle Veintimilla as Bridget Pike—a sister of the recently cast Pike brothers who eventually becomes a female version of the DC comics villain Firefly, a pyromanic who wears a jetpack and has a penchant for flamethrowers.
---
Guardians of the Galaxy: The Animated Series
Here's two "Origin" clips detailing how Rocket Raccoon met Groot, which were made to promote the upcoming show.
---
Galavant
Timothy Omundson has shared a new behind-the-scenes picture from filming.
Meanwhile, the first episode of Season 2 has been given a (rather fantastic) title: "A New Season, A.K.A. Suck It, Cancellation Bear". [Spoiler TV]
---
The Strain
Here's some new photos from "The Born"—go to the link to see more. [Spoiler TV]
---
The Last Kingdom
Finally, BBC America have released a new trailer for their adaptation of Bernard Cornwell's series of books The Saxon Stories, set against the backdrop of King Alfred the Great's formation of England as a single country.
---
Additional reporting by Gordon Jackson and Charlie Jane Anders. Top image: Concept Art for Neil Blomkamp's Alien movie.