There's even more wild rumors about how the Joker origin movie will tie into the wider DC movie slate. New Wonder Woman 1984 set footage could give a sneaky hint at a certain comic book vehicle. Plus, Justin Roiland says Rick and Morty's new deal with Adult Swim should mean less waiting for new episodes. Spoilers, away!

Guardians of the Galaxy Vol. 3
James Gunn recently confirmed the third Guardians of the Galaxy is chronologically set after the events of Infinity War, in the wake of recent comments from Chris Pratt about the chances it could be a prequel, to dance around the deaths of multiple Guardians in the latest Avengers film.
---
Queen & Country
That Hashtag Show reports Sylvia Hoeks is in talks to play British spy Tara Chace in Ridley Scott's film adaptation of the comic book series from writer Greg Rucka and screenwriter Olivia Milch.
G/O Media may get a commission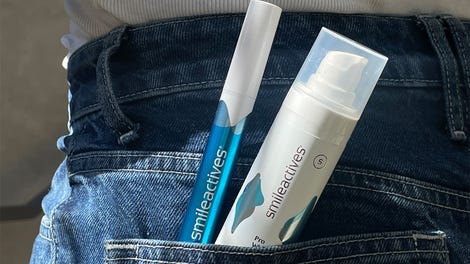 58% off
Whitening Powerhouse Pen & Gel Duo
---
Wonder Woman 1984
The latest set video from filming seems to make it look like Gal Gadot is piloting some kind of invisible vehicle—but it appears to be a similar shot to ones filmed earlier this week of Wonder Woman sprinting down a similarly-chaotic street, so it could be related to that, rather than any invisible jet shenanigans. It would also have to be a rather tiny jet.


---
The Meg
Jason Statham reveals his sordid history with Megalodons in a great new international trailer.
Meanwhile, First Showing has the latest poster.
---
Ant-Man & The Wasp
Scott and Hope are apparently checking out the latest Marvel movie on the latest poster from Coming Soon.


---
The Joker
On the latest episode of the Superhero News Show, Forbes writer Mark Hughes revealed he's "heard whispers" Joaquin Phoenix's Joker movie will set the stage for his incarnation of the character to appear in future Batman films.
I think Joaquin Phoenix is playing the Joker in a standalone film, that will possibly wind up not being standalone as the situation evolved with the solo Batman movies and the future of the DCEU shapes up. I haven't heard anything firm, but I've heard certainly whispers from several people that I've talked to about that project. And what it sounds like is that if that project takes shape, if Martin Scorsese is going to be on board producing a film with Joaquin Phoenix playing the Joker... so now it looks like there's going to be that project and I have heard from a few people that there is talk of if [The Joker] movie is really going to go forward and if its really that good, if we're rebooting Batman anyway, he's going to need a Joker. We can't use preexisting Jokers. So we either have Jared Leto showing up as the Joker in some sort of sequel movie, and a Joaquin Phoenix solo Joker movie, and then we have to have another Joker. Wouldn't it make more sense to take a Martin Scorsese produced Joker with Joaquin Phoenix and wait and see if it works out, then just cross that and have that be the Joker for the new Batman?
---
Lovecraft Country

Deadline reports Courtney B. Vance, Aunjanue Ellis, and Elizabeth Debicki have joined the cast of Lovecraft Country. Vance will play George Black, a "warm, funny, and well read" father figure who was "the first to introduce Atticus to the wonderful and strange world of pulp novels." Ellis has been cast as Hippolyta Black, "George's wife, Atticus's aunt, and a star gazer" with an "itch for adventure" that "will eventually, literally and figuratively, take her to the stars and beyond". Finally, Debicki will play Christina Braithwhite, "the only daughter of Samuel Braithwhite, the leader of a secret order calling themselves the "Sons of Adam."
---
Supergirl
Jeremy Jordan promises to return to Supergirl in a new Instagram post.
---
Preacher
Speaking with TV Guide, Seth Rogen revealed Tulip finally gets the chance to rescue Jesse this season.
The big difference is Jesse needs help. And Tulip has to help him as opposed to last season when it was kind of the opposite of that dynamic. This season, especially with Tulip and Jesse, he is the one who's kinda stuck this time. [Which] gives her more opportunity to try to get him out of a situation with his help. They're really working together as opposed to one being helpless and one saving the other.
---
Castle Rock
Deadline reports Castle Rock will enjoy its world premiere during the Hulu panel at San Diego Comic-Con.
---
Rick & Morty
Speaking with Polygon, Justin Roiland confirmed there will (hopefully) no longer be long gaps between seasons following his new deal with Adult Swim:
We're super excited that, for the first time ever, we're locked in, we know what the future is, we have job security. Harmon is in great spirits, we have a great writer's room. We want the episodes to stay good, but we do also want to try to turn them around a little quicker now that we have this big order, I think it gives us the ability to be faster. We're not going to do these long breaks, these chasms in between seasons anymore. We're going to schedule vacation time and just keep the machine going. It's going to be really cool.
---
The 100
Marcus shares his vision for a better tomorrow in the trailer for next week's episode, "How We Get to Peace."
---
Misfits & Monsters
Finally, Bobcat Goldthwaite discusses his new anthology series in a featurette from Tru TV.
---
Banner art by Jim Cooke.