This clip from the Gag Reel of The Next Generation's final season might be short, but my god, it's worth it to watch Jonathan Frakes race after a poor Ensign passing by.
The full reel will be a feature on TNG Season 7's Blu-Ray release, due out December 2nd - but there's a lot to love in the 45 seconds included above, with Patrick Stewart cursing his way down a rocky hill, and this brilliant moment from Jonathan Frakes: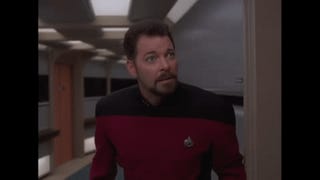 Go forth, internet. Do what you must with this glorious gif.
[Clip and Gif via Uproxx]
---
You're reading Toybox, io9's new blog for all things pop culture. From merchandise to awesome fan creations, TV recaps and critical commentary on the hot topics of the day, you can find it all here!