Lo-fi scifi auteur Jim Munroe worked with three artists, Mathew Borrett, Terry Lau and Sanford Kong, to create these gorgeous images of a fallen Toronto. It's just in time for the Canadian election, where notorious politician Rob Ford's older brother Doug is currently polling pretty well in the Toronto mayoral race.
Arachnid warning sign by Terry Lau
These images will be part of a calendar that's a reward for people backing Munroe's latest project, a near-future series about gamers called Haphead, which we've written about before. Those of you familiar with Munroe's work may recognize a lot of these scenes from his last film, Ghosts with Shit Jobs, which features a segment about what happens to Toronto after the city is invaded by giant spiders and its local internet cloud goes into forclosure.
G/O Media may get a commission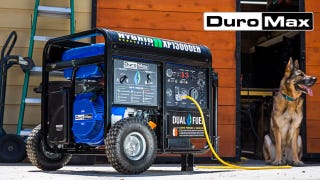 Black Friday Sale
DuroMax Generator Sale
Munroe said via e-mail:
Sanford's stuff is GHOSTS concept sketches, with the Buddha statue on Lake Ontario, and the spider silk everywhere... Terry's is also from GHOSTS. Mathew's stuff is not for Haphead, but he's our 3D artist who built the crazy factory city that we fly over in the Haphead trailer.
Given the electoral time distortion stuff, it's fairly timely. By Tuesday timelines will have collapsed... hopefully not disastrously for Toronto?
If you're in Toronto, be sure to vote on Monday! And remember, your choice could mean the difference between a healthy city and the spider apocalypse. And if you want these images in a gorgeous calendar, it could be yours if you contribute to the Haphead Kickstarter campaign.
By Mathew Borrett
By Mathew Borrett
By Mathew Borrett
By Mathew Borrett
By Sanford Kong
By Sanford Kong
By Sanford Kong
By Sanford Kong
By Sanford Kong
By Sanford Kong
By Sanford Kong