It's no secret that we love Ken Liu's fiction - his novels and his short stories. Last week, Saga Press released his debut collection, The Paper Menagerie and Other Stories, and we decided to have a chat with him about how he went about narrowing down a decade's worth of fiction into one volume.

Liu has been busy in the last couple of years: he earned a Hugo Award as a translator for The Three Body Problem, and this collection is the first of four books that he has coming out this year.
You've been writing short fiction for the better part of a decade now: how did you set about picking the stories out of your bibliography for this book?
I generally picked the stories that felt most "me."
As you probably know, I care very little about genre labels, but I do like to write stories that literalize metaphors, an approach that works better in some stories than in others. I also like to challenge the rules of what a "good story" should be and deliberately do things that you're not supposed to do. Sometimes the rule-breaking works, sometimes not. The good thing about picking out stories for your own collection is that you can focus on the stories where your decisions worked out the best.
G/O Media may get a commission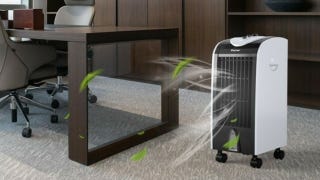 Save $10
Evaporative Portable Air Conditioner Cooler with Filter Knob
Still, I had a hard time winnowing my stories down to a handful that I was really proud of—there were so many stories that I had to leave out just because there was no room. The process of reading over my old stories was also a bit like reading over an old diary, as it reminded me of the person I was when I wrote each of the stories.
Once I had my picks, I was also persuaded to add in some award nominees and winners that weren't on my initial list. The goal was to have a TOC that felt balanced and gave a good sense of my development as a writer.
You noted in your foreword that you try and avoid autobiographical stories, but in 'Good Hunting' and 'A Brief History of the Trans-Pacific Tunnel', you write about some deeply historical topics pertaining to China. How do you tell stories that draw on your Chinese heritage, but avoid racial assumptions?
As an American writer, the literary tradition that I draw on the most is the Anglo-American one, and when you are writing in this tradition, the Orientalizing Western gaze is something you have to constantly push against as well as compromise with. Finding new ways to reclaim tired tropes and to challenge racial assumptions is difficult, but it must be done.

At the same time, I don't view the historical events I write about as particularly Chinese. The past, with its historical atrocities and heroic acts of collective and individual defiance, is the common heritage of the whole human race, and I write about the past in order to gain a better understanding of the world of the present as well as our species's future.
You've played with short story form in a couple of stories: 'The Bookmaking Habits of Select Species' and 'An Advanced Readers Picture Book of Comparative Cognition' come to mind. How do you approach form for stories like this, which tell much broader, metatextual narratives?
I find most "rules" about how to write a "good story" confining, and I enjoy writing stories that don't look like stories at all on the surface. There are so many different narrative traditions across the world, and each of those traditions has evolved dramatically over time. Once I understood that, I felt truly free; I could write and invent the way I wanted to because there never has been only one way to tell a good story.
Short fiction encourages experimentation, and it's fun to play with form and try experiments that may or may not work out. It's why we became writers, you know?
For the two particular stories you mention here, I decided to write in a way that leveraged the techniques of nonfiction for fiction. Fiction is usually distinguished by a rhetorical mode that is distinct from nonfiction, but it's worth digging into that division a little bit and see just how far you can push the nonfiction rhetorical mode while still maintaining the essence of a logic of metaphors.
One thing that I noticed throughout the collection is the cross-section of genres that you've written: there's fantasy, science fiction, and quite a bit more. Do you explicitly set out to write a fantasy or science fiction story?
I never pay much attention to genre labels. I think they may be helpful for booksellers, but they've never helped me in figuring out what I like to read.
When writing, I go by instinct: Some stories are better when told using metaphors drawn from science, but others work better when the idea of magic is literalized. As long as the result is something that I enjoy writing, I'm happy to draw on any set of tropes and techniques, no matter what vaguely defined genre they're associated with.
In addition to your collection, you have several other books coming out this year: where do you find the time? What do you have coming up in 2017 and beyond?
Ha! I wish I were as efficient as you make me out to be :) The truth is that the books I have coming out this year represent the culmination of many years of steady, slow work.
Besides The Paper Menagerie and Other Stories, in September Tor Books will publish my translation of Death's End, the concluding volume of Liu Cixin's bestselling Three-Body trilogy. This volume is far grander in scope than either of its predecessors, and it's my favorite in the series. I can't wait to talk about it with fans after it comes out.
In October, Saga will publish The Wall of Storms, book II of my silkpunk epic fantasy series, The Dandelion Dynasty. The Wall of Storms is a deeper, darker book than its predecessor, The Grace of Kings, and interrogates many of the assumptions of the world of Dara laid out in the first book. It also has a lot more silkpunk technology, which I really enjoyed creating and can't wait to share with readers.
Finally, in November, Tor Books will publish Invisible Planets, a collection of my translations of contemporary Chinese SF. This is the first major commercial anthology in English devoted to contemporary Chinese SF, and by including some critical essays and survey articles in addition to the stories, I hope the book will stimulate discussion in fandom and encourage more readers to seek out SFF from beyond the Anglophone world.
---
Contact the author at andrew.liptak@io9.com.