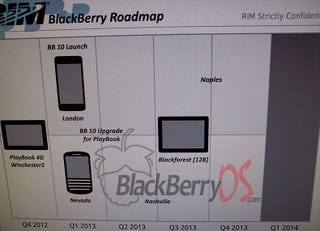 BlackBerryOS has posted what appears to be a leaked RIM roadmap, and it suggests that RIM is planning to launch the first of a glut of new BlackBerry 10 devices in early 2013.
The document (click image above for full view) suggests that two new phones—the London and Nevada—will launch at the same time as the OS in the first quarter of 2013. The London is, as the document depicts, a touchscreen device while the Nevada sticks with the standard QWERTY keyboard design.
The document also shows a tablet device, codenamed Blackforest, due for release in the third quarter of 2013, as well as two other phones called Nashville and Naples. And, perhaps most amusing of all, if the document is to be believed, a 4G version of the Playbook will land sometime before the end of 2012.
Of course whether this is real is, as always, up for debate. But with the company already sitting on a huge stack of unsold hardware all these launches would likely add to the stockpile.
[BlackberryOS via The Verge]