It's not an easy time to be shopping for a new TV. Do you want that crisp 4K resolution, or a gorgeous new OLED display? Unless you've got tens of thousands of dollars burning a hole in your pocket, you can't have them both in the same screen. Which is why we decided to pit them against each other.
The Sony XBR-950B is Gizmodo's current reference set against which all other 4K televisions are compared, and the LG 55EC9300 Curved OLED has been widely hailed as having one of the best displays on the market today. They are the go-to TV sets if you've got a semi-reasonable amount of money to burn on the future of television.
And hey, wouldn't you know it, I've got one of each sitting right here in my living room. Ask me anything. No, seriously.
First, let me be clear, both of these are fantastic sets in their own right, both far and away superior examples of the genus. But they're also very different.
G/O Media may get a commission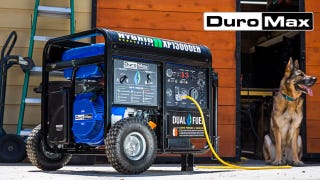 Black Friday Sale
DuroMax Generator Sale
The LG 9300 certainly lives up to the hype. Its OLED panel produces gorgeously saturated colors, lifelike skin tones, deep velvety black levels, and picture clarity that rivals upscaled 4K. I repeatedly had to remind myself that it was, in fact, only 1080p. The screen's slight concave curvature is no gimmick either. When viewed from head-on, the curve is imperceptible but does help minimize the pincushion effect that plagues conventional flat panels. The curve is noticeable from wider viewing angles but thanks to the OLED's expanded color gamut and higher contrast, image quality doesn't degrade nearly as badly as LCDs—and that includes the excellent Sony XBR-950B—from off angles. The biggest fault I can find in this set is that it can't be easily wall mounted.
The Sony XBR-950B is equally impressive. The set features a pair of potent display-boosting technologies: Trilumion pixels and the X-Reality Pro upscaling algorithm. Triluminon pixels are 10n-diameter nanocrystals designed to shine at a very specific wavelength, which boosts the set's color palette by about 50 percent. And man, you can see it every time you turn on the set—especially in the color saturation of red and green hues. It's also one of the few 4K sets that offers a full-array local dimming backlight which increases contrast without washing out the overall image.
X-Reality Pro is another welcomed feature that upscales current-gen HD signals up to 4K resolution. It's the same technology that Sony's been using in theater projectors for more than a decade and it delivered crisp near 4K-quality images from virtually every input source I could throw at it.
Try as I might, I couldn't choose between these screens on quality alone. They're each incredible in their own ways, and even the fact that the Sony is twice the price ($7000 vs $3500) wasn't a killing blow. What pushed me over the edge was content.
You see, we're in the midst of another iterative revolution, closely akin to what consumers faced last fall ahead of the PS4 and Xbox One releases. That November, shoppers had a difficult choice: do they go with the current generation and enjoy heaps of existing dirt cheap content, or do they bank on receiving an even greater reward once the market reaches saturation? Buying a new TV right now isn't much different.
1080p is a fully realized standard now, the default resolution at which all new movies, TV shows, and games are expected to play. (Incidentally, new game consoles finally have enough power to regularly output 1080p games.) But though 4K UHD is also a recognized standard, it's still an infant one. The fact that Sony expects you to buy a $700 Sony player and pay $8 per 4K movie rental should tell you something about the state of the format.
If you're looking to buy a set today, go with the LG. At 1080p resolution, its image quality can't be beat, even with the Sony's upscaling capabilities. And with the general lack of 4K content currently available, you're better off blowing your cash on the OLED and waiting until 4K content becomes the rule rather than the exception in a few years' time. By that time, the price of UHD sets should be far more reasonable than they are now. It just doesn't make sense to pay a premium for 4K capabilities just yet.
But if your heart's set on a UHD TV, don't go away: we'll be telling you how to get some deals on 4K sets quite soon.