Nick Douglas of Valleywag is nearly in the door at Apple's Cupertino campus, where he'll be posting live updates of the talk as they happen, Jobs willing. (We keep waiting for the moment when Apple installs radio jammers in their conference rooms, but until then...)
If you don't care to have the up-to-the-second updates, Gizmodo will be publishing the highlights.
If you'd like to join us in our Campfire chat room, there are a few (oh-so-coveted) slots left.
For the first time ever, we'll be providing a live Spanish translation of the Apple announcements on Gizmodo Spain.
In the meantime, head on over to Valleywag and place your bets on Apple's announcement in our handy poll.
G/O Media may get a commission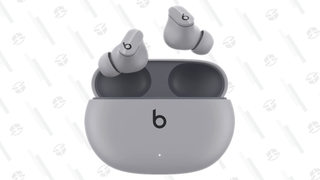 Front Page [Valleywag]