Click to viewRemember the Leapfrog Fly Pentop? The educational toy that can answer math problems and translate words you write on the special dotted paper? This LiveScribe is the grown-up version, and I believe it's going to sell like hotcakes. In a nutshell, the most critically cool thing it can do is link audio recordings you make as you jot written notes to the actual text you're writing. And it can later all be indexed on a PC, and played back on the computer. Or by clicking on the notepad. Completely useful for students, journalists, lawyers—anyone who takes a lot of notes. And it works.


G/O Media may get a commission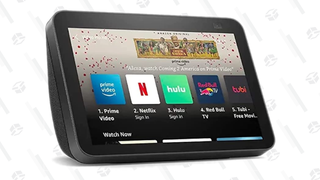 I don't know about you, but if I had this in school, my written notes wouldn't have just sat there, unused in my notebook. You can click on the paper, and the whole audio segment plays itself back. That's also nice because you don't have to write every little thing down; you can take loose notes, and then actually spend time thinking about what the teacher/interviewee is saying.
The amount of RAM wasn't indicated, but I heard that the pen will store an hour 100 hours [UPDATED] of audio. Good for short assignments and lectures. The paper? You can print out the templates on almost any laser printer, and on many inkjets. They're more into selling the apps than the paper. And the pen's software development kit is going to be nice and open, so geeks can write their own apps on top of the ones you can buy. (And the pen already does neat stuff like the math and translation.)
The pen also uses some neat logic built into our hearing system to filter noise. The microphones are in the earbuds, in stereo. When your brain hears the same signal equally in both ears, it has a much better time focusing on that noise. As the microphones record the sound as your ears would ear it, it plays it back in the same stereo resolution. So your brain has an easy time filtering out the background rumble.
A very cool app, and Jim Marggraff's 6th generation paper interface device (He also made that cool talking globe for kids you can click on for geography lessons.) And if you're wondering if this thing'll read your handwriting, I can say with first hand knowledge that Jim's handwriting absolutely sucks, and it still read his.
Livescribe Launches New Mobile Computing Platform

Smartpen, Applications, and Developer Tools Connect Paper and Digital Worlds

D: ALL THINGS DIGITAL, CARLSBAD, Calif. - May 30, 2007 - Livescribe Founder and Chief Executive Officer Jim Marggraff today unveiled a new chapter in mobile computing - a new paper-based computing platform. The Livescribe platform turns plain paper into a computer screen and bridges the gap between the paper and digital worlds. The platform enables a broad range of new applications in personal productivity, learning, communication, and self expression.

The Livescribe platform includes:

- Smartpen: a Montblanc-size computer with advanced processing power, audio/visual feedback, and substantial memory for handwriting capture, audio recording, and applications

- Dot Paper with Dot Positioning System (DPS): technology that enables interactive, "live" documents using plain paper printed with micro-dots

- Software Applications: a breadth of solutions that leverage audio/ink capture, handwriting recognition, and Internet connectivity to enhance personal productivity, learning, communication and self expression

- Development Tools: easy-to-use tools for consumers and developers to create, publish, and share or sell new applications and content online

The possibilities for paper-based applications are endless. Livescribe's first key application is "Paper Replay." When taking notes during a discussion or lecture, the smartpen records the conversation and digitizes the handwriting, automatically synching the ink and audio. By later tapping the ink, the smartpen replays the conversation from the exact moment the note was written. Notes and audio can also be uploaded to a PC where they can be replayed, saved, searched and sent.

Additional applications will be available for download from www.livescribe.com. Some use handwriting recognition. For example, when a user writes a math problem, the smartpen interprets the writing, calculates the answer and speaks or shows it on the smartpen's OLED display. When a user writes a word, the definition or even translation can be heard or seen. Other applications use pre-printed materials to bring paper to life. Tapping a magazine ad, map, customer survey, or study guide instantly launches an application and enables interaction. Still other applications use the power of the Internet to let people broadly share and collaborate. Handwritten messages can be sent as emails. Animated, hand-drawn "movies" can be posted and shared online. Spoken messages can be recorded, linked with written notes and emailed directly from a notepad. Livescribe holds intellectual property around these and other paper-based computing solutions.

"The basic modes of human communication - reading, writing, speaking and listening - are enhanced by Livescribe with a completely intuitive, portable, low-cost tool," said Marggraff. "A smartpen that captures your notes, records what you hear, solves your math problems, translates languages, and sends handwritten emails is extraordinary to experience. It is the harbinger of a new era of mobile computing."

"The Livescribe platform takes paper-based technology to a radical new level, integrating software applications with physical paper," said Rodney Brooks, Director of MIT Computer Science and Artificial Intelligence Laboratory. "I see the smartpen as just the beginning for a new class of device with almost unlimited potential."

Livescribe is funded by VantagePoint Venture Partners and has an executive management team with deep experience from successful consumer technology companies such as LeapFrog, Palm, Apple and IBM. Marggraff is best known for inventing LeapFrog's billion-dollar LeapPad platform and the award-winning FLY Pentop Computer. Joining him at the D conference are Chief Operating Officer Sasha Pesic and Chief Marketing Officer Byron Connell.

Anoto AB, inventor of optical pen technology and dot pattern, holds intellectual property that allows quick and reliable transmission of handwritten text from paper to digital media. Livescribe has licensed this technology for use in its smartpen and dot paper.

Product Availability

The Livescribe paper-based computing platform - a smartpen, dot paper, software applications, along with development tools - will be available online beginning in Q4. The smartpen will be less than $200. Additional dot paper will be available at prices comparable to standard paper products.

About D: All Things Digital

D: All Things Digital is a gathering of the movers and shakers who are at the forefront of the digital revolution. Producers Walt Mossberg and Kara Swisher invite the best people in the business each year to participate in D, including the individuals making news and successful leaders and pre-eminent thinkers who are shaping the digital world. The conference, which is sold out, takes place May 29-31 near San Diego, Calif. For more information, see http://d.wsj.com/.
About Livescribe

Located in Oakland, Calif., Livescribe has developed a new low-cost mobile computing platform that connects the paper and digital worlds. Founded by Jim Marggraff, an entrepreneur and inventor of paper-based computing, including the LeapPad and Fly Pentop Computer, the company is designing innovative solutions that enhance personal productivity, learning, communication, and self expression for anyone who writes with pen and paper. For more information, visit Livescribe at www.livescribe.com.