You were't planning on sleeping this week, were you? Good, because we've got a list of webcomics to chill and thrill you. From post-apocalyptic epics filled with monsters to anthologies packed with serial killers, alien invaders, and nightmares come to life, here is something for every sort of horror fan.
Top image from False Positive.
The Last Halloween by Abby Howard: There are a lot of comics out there that blend comedy and monsters: Paranatural, Eerie Cuties, College Roomies from Hell!!!, and Bite Me!, just name a few. But The Last Halloween, while goofy, is also genuinely creepy thanks to Howard's black humor and grotesque monster designs. When the monsters rise up against humanity to trigger the apocalypse, Mona's only chance of survival is a group of undead children. But will they actually help keep her alive, or just hasten her doom?
---
Split Lip by Sam Costello and Various Artists: Writer Sam Costello teams up a different artist for each of the stories in his horror comic anthology. He spins a wide array of chilling tales: unsettling mysteries, Lovecraftian terrors, body horrors, and mystical nightmares. A while back, we featured Split Lip on our list of completed webcomics (also be sure to check out the reader-submitted list), but Split Lip is actually returning today with a new tale of terror.
G/O Media may get a commission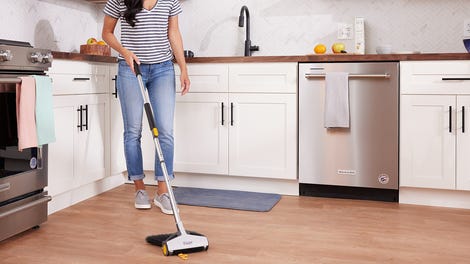 BOGO 50% Off
Flippr - BOGO 50% Off
---
Broodhollow by Kris Straub: Who better than the creator of the creepypasta Candle Cove to tingle your spine? Broodhollow centers around a neurotic encyclopedia salesman who is obsessed with a series of personal rituals called the Pattern. When he arrives in a quaint town that has innumerable rituals of its own, he stumbles upon a monstrous secret. We love it so much, we'd love to see it as a TV series.
---
The Works of Emily Carroll: Carroll is, hands down, one of our favorite horror writers. Her comics tend to blend fairy tale conventions with horror, and the effect is always unsettling. She also frequently plays with the freedom that infinite online canvas provides, such as in her stellar His Face All Red and Margot's Room. There is also the horrible self-delusion of Out of Skin and the tragic ghost story The Hole the Fox Did Make. She also recently came out with a book of horror comics, Through the Woods. Read our excerpt from the book, Our Neighbor's House.
---
The Last Trick-or-Treaters by RK Milholland: Milholland is probably best known for his long-running webcomic Something Positive, but at Halloween, he treats his readers to something spooky. Each installment is a watercolor illustration accompanied by a terrible tale involving a trick-or-treater who has run afoul of some (usually) wicked creature. This year, however, Milholland kicked off the series with something sweetly sad.
---
The Fox Sister by Christina Strain and Jayd Aït-Kaci: The Fox Sister is a beautifully illustrated fantasy comic, set in 1960s Seoul, with a horrifying creature at its heart. One night, Yun Hee's entire family was slaughtered by a kumiho, a nine-tailed fox demon, which steals her sister's form. Years later, Yun Hee is a Mu priestess and she's ready to face the demon once again. When Yun Hee encounters an American Christian missionary, will he prove ally or foe?
---
Gunshow's Horror Comics by KC Green: Green has announced that he will be ending his mostly gag comic Gunshow soon (he's currently collaborating on the end-of-days webcomic Back with Nedroid's Anthony Clark and is running a webcomic adaptation of Carlo Collodi's Pinocchio), but he's ending with plenty of fun. During October, he's running a series of horror-themed gag comics, twisting horror conventions with his humor and freewheeling visual style.
---
False Positive by Mike Walton: If you like twisty, turny horror tales, check out this series of short horror comics by Mike Walton. A man picks up the wrong suitcase and decides to test out the strange concoctions within. A woman who may be a god is trapped within an asylum. A serial killer has the worst luck despite taking every precaution to get away with crimes. A man pulls out an aching tooth, and discovers something strange within his body. Each tale is like a quick hop to the Twilight Zone.
---
Crossed: Wish You Were Here (NSFW) by Si Spurrier, Javier Barreno, and Fernando Melek: This webcomic spinoff of Garth Ennis and Jacen Burrows' comic is set in a world where a plague causes the infected to act out their most evil thoughts. The webcomic follows a group of survivors trying to establish some semblance of civilization on a small Scottish island. Be warned, though, this contains all manner of violence, including rape (of a dolphin), maiming, and cannibalism. It's only for the reader who likes lots and lots of gore (and worse).
---
The Zombie Hunters by Jenny Romanchuk: In the wake of the zombie apocalypse, a group of human survivors establishes a colony on an island where the dead cannot reach them. But some of the inhabitants have been infected by the zombie virus, meaning that when they die, they become the walking dead. It's small wonder then that some of the infected take up the role of zombie hunters, venturing into the infested wastelands to salvage supplies.
---
Judecca (Sometimes NSFW) by Jonathan Meecham and Noora Heikkilä: Sharky lives along a river in Hell with his rabbit roommate, Fredrick Dickenson. Their lives are very routine until a mute, scarred girl begins showing up in their apartment to cook breakfast. But the friendship that grows between Sharky and this girl is a mere candle in the monotony and horrors of the afterlife, where the monsters will destroy you if boredom doesn't first.
---
Agnes Quill by Dave Roman and Various Artists: When she was 16 years old, Agnes Quill inherited her grandfather's estate and his ability to speak ghosts. Now she lives in a Victorian-esque city shrouded in fog, occasionally solving paranormal mysteries. While some of her adventures are a bit on the silly side, others are strange and sorrowful.
---
The Abaddon by Koren Shadmi: Ter arrives in apartment 262 with little luggage and a fuzzy memory of how he got there. He quickly realizes, however, that he can't leave his new digs, and, as in the play No Exit, Hell may very well be his roommates.
---
Lovecraft is Missing by Larry Latham: What if all of the stories that HP Lovecraft wrote were nonfiction? Orwin Butler, young writer of weird tales arrives in Providence to meet his penpal and personal hero, Lovecraft, only to find that the famed horror writer has vanished. Soon, Win has teamed up with a Brown University librarian and a Catholic priest to uncover the truth beneath Lovecraft's tales.
---
Stand Still. Stay Silent by Minna Sundberg: The creator of A Redtail's Dream has returned with a new post-apocalyptic webcomic set in the Nordic region. After a pandemic wipes out most of the population, a few colonies remain in Iceland, Denmark, Norway, Sweden, and Finland, relying on a combination of science and superstition to get by. A small research crew is about to venture out into the Silent World, but the plague has left bizarre monsters in its wake.
---
The Stiff by Jason Thompson: Perhaps the most immediately horrifying thing about occasional io9 contributor Jason Thompson's webcomic The Stiff is how accurately it portrays high school. But there's clearly something nefarious going on in this tale of a horror-obsessed teenager who claims not to be interested in sex or romance, until he develops an all-consuming crush on the new girl at school. But what's going on him, and why does she look so much like him?
Thompson has also done comic adaptations of HP Lovecraft's Dream Cycle stories.
---
The Comics of Ryan Andrews: Andrews' short comic Sarah and the Seed is a rather sweet take on a potentially malevolent fairy tale concept, but some of his other comics, like Our Bloodstained Roof and Nothing is Forgotten, leave us with a shiver. And The Tunnel uses the "next" button to great effect.
---
The Bongcheon-Dong Ghost (Not Safe for Pants) by Studio Horang: By now, you've probably read the webcomic best known as "that pants-wettingly terrifying Korean comic." After all, it makes the rounds every Halloween. But this list would feel woefully incomplete without it, and it's always fun to find someone who hasn't seen them before and telling them to scroll down slowly.