We got there late, but we got there. Will Leitch, a special friend of Gizmodo, sends us a twisted missive from the heart of Mac Country. Will is not a techie. He's a journalistic pit-bull, a sports fan, and is coming to MacWorld with fresh eyes. He sees what we won't see. He'll bring back the blood, the glory, and the heart of the Mac Community. Ladies and gentlemen, we present to you:
Among the Believers with Will Leitch
BOSTON—A few years ago, some friends of mine and I came up with a little game, usually played while drunk. The idea? Take Internet phrases that we use on a daily basis, and imagine how ridiculous they would have sounded if we said them 10 years ago. Example: Hey, dude, are you having problems with your Yahoo? Mine s totally messed up. Or: Yeah, I ve been Googling myself all day. I Googled my mom too. And yours! It s a good time, for a few minutes anyway.
It was difficult not to feel like I was living 10 years in the past while covering the MacWorld Conference in Boston this week. I m no computer expert; sessions like Harnessing the Power of Your XGrid and Discussing Automator In Tiger make about much sense as listening to a professional cricket broadcast. Oh, a wicked googly!
Yet there I was, on a morbidly muggy Wednesday afternoon in Boston, hanging out in the Exhibit Hall and visiting with the locals. Hardcore Mac users who of course are crawling everywhere here; this place is 45 percent goatees tend to be Koresh-ian about their computers; a merchandise stand sold convention T-shirts (for $30 a pop!) with sayings like Once You Go Mac, You Never Go Back, It s a Mac Thing; You Wouldn t Understand and, my favorite, Who s Up For Some Mac-ing? (With a lipstick kiss splattered over the wording.) As a PC user who can t figure out how to work his Ethernet cable, I figured it wise to lay low on the first day.
A man named Bo Eriksson foils this plan immediately. He sees my MEDIA badge blogs are media, haven t you heard? grabs my arm and says, in an accent that s three-quarters Swedish Chef and one-quarter Bela Legosi, If you ll indulge me, I d like to engage a little guerrilla marketing. He smiles gnarled, ebony teeth, and I nod, sure, eyeing the exit a mere 20 feet away.
His company is called edgeBlur, his homebase is Washingtonville, N.Y., his nametag says Bo Eriksson, The Grand Pobohaa ( I might have spelled that wrong, yes? ) and his product is called the surFACE 1.5. It s essentially a TV tray for your laptop, or, as he calls it, a Desktop Replacement Machine. You set it on your lap while you re sitting in your La-Z-Boy, and then you set your laptop on top of that. It s like a tiny, unstable desk that moves; it s, seriously, a TV tray.
G/O Media may get a commission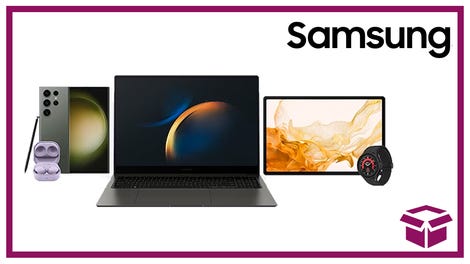 24 hour deals
Discover Samsung - Daily Deal
I ask him, considering he accosted me about 30 seconds after I walked in the door, how well the item is selling. Well, it s selling more in Europe, strangely, considering the shipping costs, he says. People here tend to spend the money on more RAM. But I m working on a new prototype that I m hoping will break through. He s starting to tell me about the upcoming executive version (with real wood!), but I excuse myself, walking backwards, hands in air, and head to check out some exhibit booths.
Look for Part II tomorrow.