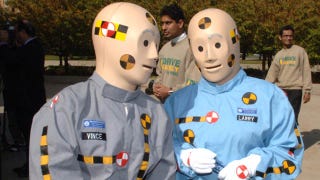 Remember the annoying rapping crash test dummies Larry and Vince? The fact that it was Larry and Vince and not Larry and Veronica has been putting women in disproportionate danger.
A recent American Journal of Public Health study showed that women restrained by a seat belt sustained injures at a rate 47-precent higher than males that had buckled up in a similar crash. The reason is that seat belts are designed with the male frame in mind. Woman are typically shorter than males and their necks are a different size.
The study concluded that the automotive industry should focus on seat belt designs tailored towards the female body. When and if this does happen, for the love of God do not make the female seat-belt setting pink. [American Journal of Public Health via Herald Sun]
---
You can keep up with Roberto Baldwin, on Twitter, Facebook, and Google+.